Submit your own Review


If you would like to tell others about your subwoofer, please use our online contact form.
Customer Testimonials
| | |
| --- | --- |
| Reviewer: | Robert B. |
| Product: | LVX12 |
LVX12 - Fantastic, musical sub. 10/10!
Like many audio enthusiasts, my concern with low frequency/bass began very conservatively. I dabbled with some sealed designs from other manufacturers and was overall happy until I re-arranged by main listening area. At that point my current subwoofer just couldn\'t provide the output I needed (250w continuous, 600w peak in a sealed box) and I began the ol\' analysis paralysis process. I scoured forums (AVS, Reddit, etc.) for months reading everything I could, changing my mind at least once a day. I had heard of Rythmik before but wasn\'t quick to drink the \"servo technology\" cool aid, mostly because I was too lazy to really read and understand how it works. The more I read and analyzed the more I became convinced I should at least give Rythmik a try. Reports of their excellent customer service and investment in a quality product pushed me over the edge. I started off with a sealed F12-300 but quickly decided that I didn\'t want to go with another sealed design - Rythmik promtply canceled the order and refunded the amount within minutes of my request. I then waited a few weeks before settling on the LVX12. When it arrived, i was impressed with the build quality and weight - for a \"light\" driver it still takes some intention to move the sub around. At first, I had some difficulty integrating with my AVR and speakers and was discouraged. Then, I contacted Rythmik who, once again, responded extremly quickly with a detailed walk-through of sub integration and suggestions for out put (both Enrico AND Brian responded which attests to their involvement and concern for the customer). Once I followed those instructions I was quickly greeted by extremely deep and detailed bass. A primarily a music listener, I couldn\'t be happier about the accuracy and smoothness of the LVX12. You might expect it to be messy or boomy given the ported design, but it is EXTREMELY smooth. In fact, it almost sounds like a sealed sub when used in music mode with one port closed - there was zero chuffing whatsoever and it handled everything I through at it. I also watched an Indiana Jones movie with my young son and had to dial it back a bit as it was too intense for the kid. As with all significant audio purchases, there is always the fear of buyer\'s remorse or the urge to return for something else. I know this feeling all too well, but it does not exist with this product. Assuming this sub has the longevity to match its quality, the only problem Rythmik may have introduced with this product is preventing customers from upgrading due to satisfaction. If you are on the fence about trying a newer brand or something different from what you read on the forums, don\'t be!
top
| | |
| --- | --- |
| Reviewer: | J. Rajanesan (India) |
| Product: | LVX12 |
I live in South India and listens mostly to Pipe organ music. I was not satisfied with my existing DIY sub as it was not able to produce bass below 32 HZ. After much search and deliberation I bought a Rythmik LVX 12 through Avenue Sound , Bombay. I know this is an entry level model but fitted my budget. I am really amazed at the accurate bass it is reproducing from most of my organ CDs. I am hearing ,or rather feeling many deep notes which I thought never existed in my CD collection. I strongly recommend this sub for organ music aficionados. There is no exaggerated bass and it is very crisp and exactly on time in staccato pedal passages. Some of the CDS I enjoyed in this new Sub are music from Liverpool cathedral - Ian Tracey, Bach by Michael Murray, Benjamin Britten's choral works with organ from Westminster Cathedral, St. Paul¡¯s cathedral- Andrew Lucas, Pomp¡¯s and pipes and so on.. keep up the good work.


top
| | |
| --- | --- |
| Reviewer: | Mark Hayes (AVS forum) |
| Product: | LVX12 |
Now that I've had the LVX12 for a few weeks, I just want to say I am continually more and more impressed. For movies and music, it is so clean and so powerful. It absolutely rocks our living room. Everything just sounds right and how it should. I still haven't gone back to compare to the BIC that I had, I've just been enjoying the LVX12 too much to take it away. The only problem is it makes me want to get the FVX15 or FV15HP. One day that will certainly be the upgrade. Or maybe an additional LVX12, or something. We'll see. Just needed to stop by and say how impressed I still am.

top
| | |
| --- | --- |
| Reviewer: | Brad C. |
| Product: | LVX12 |
I'm really enjoying the LVX12 that I just received. I've been switching it between the HT and Music settings depending on the source content and really like the results. The bass is really low, clear, and accurate and really blends well with my Energy RC-70's. I've got a large room with multiple openings and a vaulted ceiling but this sub fills it with clean bass which puts a smile on my face. Thanks for making such a great subwoofer at a price point that I feel good about.

top
| | |
| --- | --- |
| Reviewer: | Abd1 (AVS member) |
| Product: | LVX12 |
LOVE the LVX12. I just received it last week and I'm planning on posting some comments after spending more time with it, but so far I'm totally impressed and happy. My room isn't that big, 12x16x8, and it easily fills the room with bass and can make the couch and walls shake. The first movie scene I tried with it was War of the Worlds when the ship emerges from under the street. The output was so much that a cover panel that hides access to a shut off valve came off one of my walls. However, the thing that impresses me the most is how tight and accurate the bass is, and it really shines for music much more than I expected. The tighter bass actually helps the sub integrate into the music more and disappear, increasing the sound stage, especially in depth. I had read this from other people who had initial impressions with high quality subs and I was always unsure of what they meant and how the sub would impact the sound stage and imaging, but now I get it! I was coming from a Reaction Audio BPS212 sub, which has dual opposed 12" drivers and 300w in a sealed box. I was close to buying an LV12R but then the RA sub came out and I thought since I want a musical sub, getting something sealed would be good, and it was a promo for only $400. However, the performance difference isn't even close. I upgraded because I wanted something to dig deeper for movies, but I didn't expect the LVX12 to be so much better for music, but like I said, not even close. I had thought about trying to integrate the BPS212 into my HT with the LVX12, but now I'm just going to sell it. I don't want to degrade the sound at all and the LVX12 is plenty of sub for me.
I don't think you could go wrong with either of the 3. I upgraded to the LVX12 from the LV12R because it was on sale and I wanted the front ports since space is a bit tight in my room, but I bet the LV12R would have been plenty too. Of course, if you can fit and afford the 15" then go for it! You can't make a bad choice here.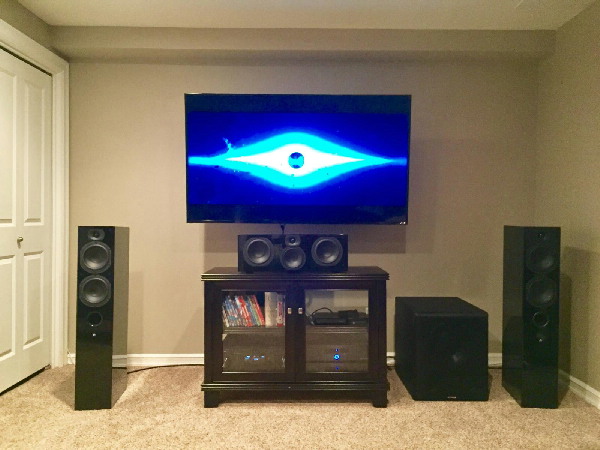 top
| | |
| --- | --- |
| Reviewer: | Kevin B. |
| Product: | LVX12 |
Enrico,

I have now had the LVX12 for about 4 months now and all I can say is WOW! It is so satisfying to now be able to differentiate the many subtleties of those bottom octaves. Not just hear them but feel them as well. It puts a smile on my face every time I fire up my system. Thanks for making such an outstanding product.

On a side note, I have B&W bookshelf speakers and after running room correction it set the crossover at 80hz. I played with 100hz also but felt that the mid bass did not sound as clean. Then I read an article by Dr. David Rich about integrating ported bookshelf speakers with subwoofers. He found that by plugging the ports he could integrate them better and the sound would be cleaner at the crossover point. I plugged mine and reran room correction and the crossover was set at 100hz. He was right, doing this cleaned this area up tremendously and it allowed the sub to better handle that area of mid bass. I now have fantastically tight bass with the punch I have always wanted.

Trying this with ported floor standing speakers may also help other customers depending on model.

Kevin B.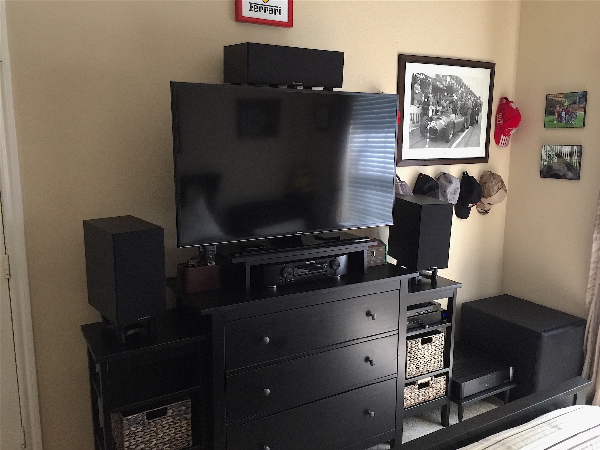 top
| | |
| --- | --- |
| Reviewer: | Bruce W. |
| Product: | LVX12 |
Finally got the first LVX12 installed (was waiting on cable). All I did was shove it up against the wall where it more-or-less has to go, plug it into the Denon AVR-X4000, and run Audyssey again.
Amazing. That's all I can say.
Even dragged my wife down to watch a scene from the Neflix show Daredevil. Just a street scene (with excellent sound design). I told her that a subwoofer adds realism (not that she believed it of course). She was shocked. Started talking about how it helped "suspend her disbelief" and become more immersed in the story. Even said "it's just like going to the theater". Now *that* is WAF.
I'm almost afraid to install the second one, or do something radical like run REW and get them positioned in the room better. But I'll find a way to overcome my fears. ;-)
Thanks Brian.
Oh, yes, she was even impressed by the finish. That black oak patter is vinyl, yes? She's convinced it's a cabinet grade of veneer.
--
Bruce W.

top