Features & Options
Product features include:
All our subwoofers feature our Direct Servo technology, which is our secret to achieving tight and accurate bass. The benefits are far more than simply achieving low distortion.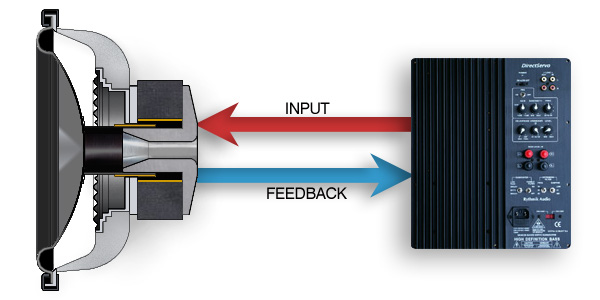 Learn more in our technology articles

12" paper cone high excursion drivers
Driver features include:
Low moving mass paper cone and rubber surround to ensure an exceptional transient response
Large magnet for high flux density in the gap to ensure low distortion
Flux de-modulation shorting rings to lower inductance and improve linearity
Our enclosures are very solid and well braced to minimize any cabinet resonance or coloration. The enclosure is heavily braced and the sub has a net weight of 53 lbs.
We also provide a range of finishes. Our range of attractive and excellent value vinyl finishes including:
black matte veneer
black oak veneer
L12 features a unique bass extension control, shown below.
| | |
| --- | --- |
| | The bass extension control enables the user to customize the frequency response of the low end for the best trade-off between output and extension. If set to low music, bass has the lowest extension. The damping factor of this mode is 0.5 for the best time domain response. However, the disadvantage is slower attenuation of subsonic signals. For HT application, we recommend low-HT mode which incorporates a 3rd order highpass filter to filter out subsonic signals below 20hz. High extension setting is recommended for application where longer playback time and lower power consumption is required. |
To suit different setups, we provide a 12 db and 24 db/octave crossover (as shown in the above photo) with adjustable range from 30hz to 120hz.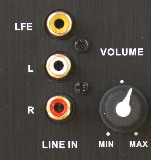 120V-240 Switchable Voltage Selection
Correct voltage must be selected before use. Voltage switch is shown below.