Features & Options
Product features include:
All our subwoofers feature our Direct Servo technology, which is our secret to achieving tight and accurate bass. The benefits are far more than simply achieving low distortion.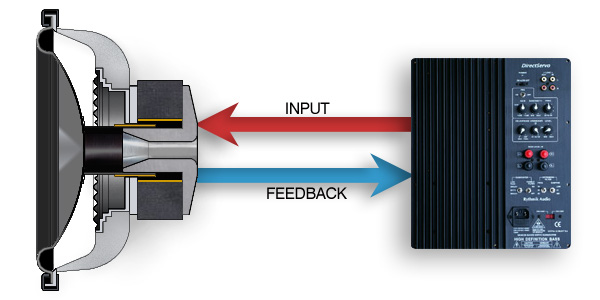 Learn more in our technology articles

Driver features include:
Rigid one piece dish shape black anodized aluminum cone ensuring control at high SPL
High flux density in the gap to ensure low distortion
Flux de-modulation shorting rings to lower inductance and improve linearity
While designed primarily for their sound quality, these custom designed drivers are also stylish in appearance with a anodized aluminum cone and rubber surround. Unfortunately, it's not possible to judge the accuracy of a driver by observing its appearance. There are other drivers on the market which in fact look quite similar, and it's tempting to think that they are comparable. Many of them are inferior in performance due to a heavy moving mass, the absence of shorting rings, wider gaps around the voice coil and high inductance which limits the useable high frequency cut off point. Many aren't suitable for a crossover point higher than 50 Hz. This is very limiting when one considers the large number of home theatre speakers which perform better when relieved of bass duties.
Read more

Our enclosures are very solid and well braced to minimize any cabinet resonances or coloration. The baffle into which the driver is mounted is double thickness.
We also provide a range of finishes. Our range of attractive and excellent value vinyl finishes including:
black oak vinyl
black matte vinyl
All of our subwoofers feature unique bass extension controls which are not normally provided on subwoofers. This enables the user to customize the output and extension to achieve the best compromise in any room. Most subwoofers neglect to provide bass extension control, and the result is that dynamic headroom is compromised.
| | |
| --- | --- |
| | The bass extension controls enable the user to customize the frequency response of the low end. The controls customize a high pass filter to set up the corner frequency of bass roll-off. The damping control determines the steepness of roll-off and the amount of time domain ringing. High damping provides the least amount of time domain ringing and the most gradual roll-off curve. Low damping provides the steepest roll-off at the low end at the expense of added time domain ringing. Low damping is more suitable for HT use. For two port operation, we recommend 12hz/low damping setting. For three port operation, we recommend 14hz/mid damping setting. For best music playback 2 port operation with 12hz high damping setting is recommended. |
For customers with an AVR or pre-processor, we recommend LFE inputs which bypass the crossover control. In this case, the crossover should be controlled via AVR. If you are still using stereo receiver or conventional pre/power amp setup with no bass management, then we recommend LINE input and set the crossover/phase controls to where the front speakers start to roll-off. Please refer to quickguide of the model for recommendation. To understand more about how to correctly integrate your subwoofer, read our phase alignment article.
| | |
| --- | --- |
| | For professional use, twobalanced inputs are available. For home use, balanced connections are not normally required. However, for those using studio processors and EQ units with balanced outputs, this option may be more convenient. If connection to a source with RCA connectors as found on my home audio equipment, an adaptor may be used. In this case it should be noted that the connection can no longer be considered balanced. |
Shown above is XLR3 opton. For this model we have only XLR3 option.
For more information, including charts showing response with different settings, view our amplifier page

Our PEQ version comes with a few extra options which aren't provided on our standard amplifier. First, there is one band of parametric EQ with adjustable frequency, gain and bandwidth. This means you can not only control the boost or cut, but also the width of the filter.

Additional bass management options are also provided. A switch allows the user to select a 12 or 24 db/octave crossover slope setup option. Where the higher slope (24db/octave) is selected, the amplifier uses a variable 12db/octave filter in addition to a fixed 12db/octave filter. One can choose with a switch the corner frequency of the fixed filter as either 50 or 80 Hz, which will suit most situations. The variable filter can be used for fine tuning.
More information

Continue to Performance & Specs