Our Most Affordable Metal Cone Subwoofer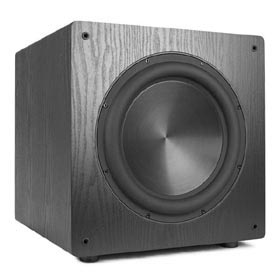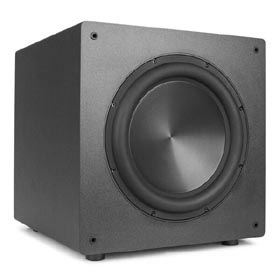 F12-400 uses 400WRMS amplifier HX410PEQ with 2 line-in RCA, one LFE RCA, and a one-band PEQ. It is currently on sale.
Documentation:
F12-300 Quickguide(retired product)
F12-400 Quickguide
Integration guide
| | | | |
| --- | --- | --- | --- |
| | Description: | Price | |
| | F12-400-BO black oak with HX410PEQ 400WRMS amp and 48 states shipping | $799 | |
| | F12-400-BM black matte with HX410PEQ 400WRMS amp and 48 states shipping | $799 | |
Performance & Specifications
The extension filter in F12-300/F12-400 is simplied to 3 positions: Low-Music, Low-HT, and high with frequency and phase response shown below. Low-music has the lowest extension, -3 db @ 17 Hz. The response is flat and extended. For high SPL in movies, we recommend Low-HT mode with built-in rumble filter that preserves the FR to -3db@18hz while reducing potentially damaging subsonic energy.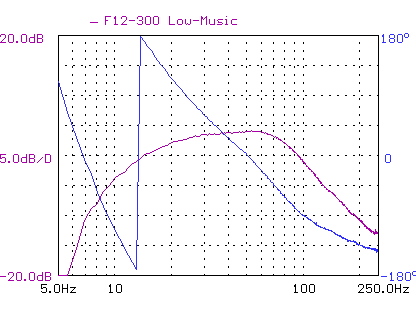 Fig 1.0 - F12-300/F12-400 Frequency response in Low-Music mode
Fig 1.1 - F12-300/F12-400 Frequency response in Low-HT mode
The high extension setting further reduces the extension and thermal stress for extended duration of playback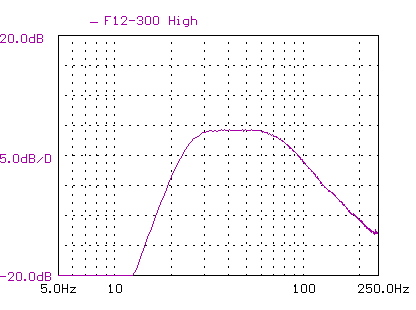 Fig 1.2 - F12-300/F12-400 Frequency response in High exension mode
Integration
With many subwoofers, it is difficult to get a correct and seamless integration with the main speakers because the amplifier settings are often very different to the measured response. You may set the crossover point to 80 Hz, but the actual crossover point may be anywhere between 60 and 100 Hz!
With our subwoofers the upper and lower -3 dB points are a very close match to the settings selected. If you set bass extension to 14 Hz, that is exactly what you will get. All this is possible because Direct Servo ensures a stable and flat response.
Another aspect of getting a correct integration is phase alignment. We have written a guide on how to achieve a phase aligned subwoofer. More

Output, extension and user preferences
We use high quality high excursion drivers which make it possible to achieve high output in a relatively compact enclosure. Only with Direct Servo is it possible to achieve such deep bass extension, high output and very high damping simultaneously. The effective system Q is 0.3. A lower Q factor represents a higher level of damping, indicating control of the cone. A typical sealed subwoofer has a Q of 0.9 and then equalized to Q of 0.7 by DSP or other equalization means. However, that does not alter the native Q value of those subs. Only our direct servo subs achives a native Q value of 0.3 with close-loop servo feedback control.
Driver
12" high excursion with custom sensing coil DS1204
Driver materials
Black only anodized aluminum with rubber surround
Cast aluminum basket
Aluminum flux de-modulation shorting rings
Amplifier
400WRMS class D Hypex module-based patented servo controlled
Input Impedance
33kohm for RCA inputs; 10kohm for mini-XLR inputs
Dimensions
15-3/4"(W) x 15-3/4" (H )x 17"(D) - (18-1/2" D with grille)
Shipping Weight
68 lbs
Frequency Response
14 - 100 Hz (-3 dB @ 17Hz) with LINE input
14 - 200 Hz (-3 dB @ 17 Hz) with LFE IN
Crossover slope
Selectable 12 or 24 dB / octave
Crossover range (Low pass)
50 - 100 Hz (100hz to 200hz range is not usable for this sub)
Rumble Filter (High pass )
17 Hz 18 dB / octave built-in for Low-HT mode
Phase response
90 degrees phase shift at 20 Hz
Phase adjustment
0 - 180 degrees continuously variable (6ms max delay adjustment)
Bass damping factor settings
Q=0.5 for Low-music mode
Finishes
Available in black matte vinyl or black oak vinyl
Warranty
5 years warranty on driver and 3 years on electronics
45 day satisfaction guarantee