Anxious about buying subwoofers online?
Perhaps you have been disappointed with products that others have raved about. We understand. We know what it is like because we have had the same experience. In developing our products we have tried many drivers on the market. Some were very disappointing. Some performed so poorly that it was not possible to achieve adequate performance even after they have been improved with our servo technology. If you are a fussy audiophile and insist on accurate bass, rest assured that our products have been designed with your goals in mind.
We often hear comments like these:
"Speed, articulation and incredible accuracy of this product is second to none in its own price range, and maybe 3 times the price category."
Sahin Derya (Istanbul, Turkey)
"... the Rythmik just sounds cleaner."
Kevin S. (USA)
"... my BK XLS200's are left far behind in EVERY aspect."
Martin J.(Sweden)
"The bass is all I have ever wanted: it is clean, tight and controlled, goes deep with authority and fits perfectly to my main speakers." Jouni A. (Finland)
"I am amazed at the low bass in music that I had never heard before."
Adam S. (Newark CA )
"It is such an improvement over my Monitor Audio FB210 I can't even believe it, and that sub cost $1000 new!"
(Matt S)
"This sub is so very tight and firm. I would of never thought that I would be able to own a sub that hits hard and very clean."
Scott K (Chandler, AZ)
Rythmik Subwoofers Used in Mastering Studios
| | |
| --- | --- |
| Reviewer: | Sterling Sound |
| Product: | F15 with A370XLR amp for mastering studio use |
Brian:
Thanks for this, the subs are working well in the studio(s), much tighter than the Velodyne's (ULD15 II) they replaced; which were admittedly 20 years old....
Here is a couple of pics of the subs in use at Sterling...
Thanks,
Barry
From Rythmik: Sterling Sound has purchased 3 pairs of F15 subwoofers for their mastering studios in 2008 and 2009. A great testimonial of the sound quality from our subwoofers.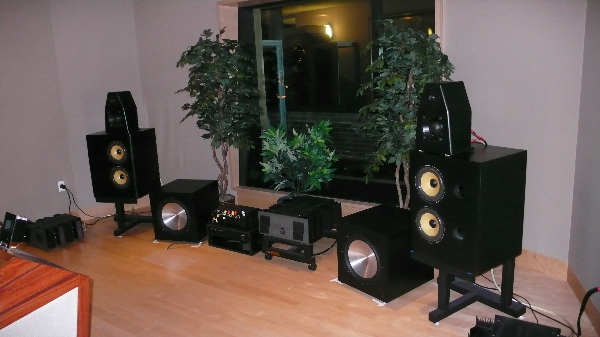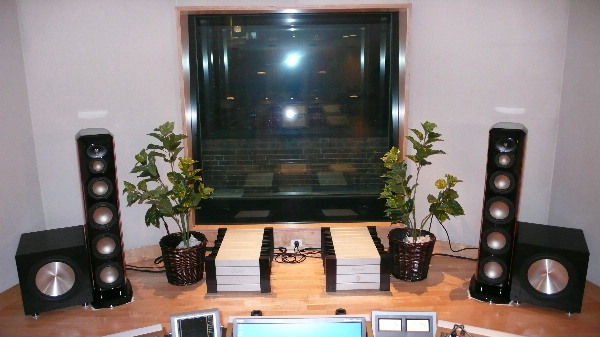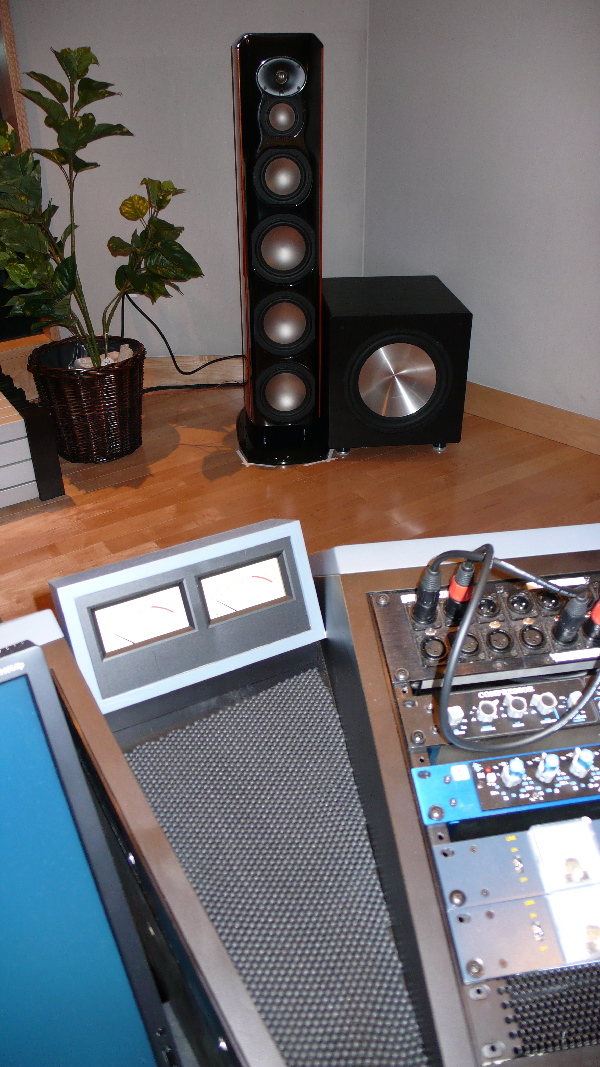 Submit your own Review


If you would like to tell others about your subwoofer, please use our online contact form.
Customer Testimonials
| | |
| --- | --- |
| Reviewer: | William A. |
| Product: | Dual L12 |
Brian/Enrico -
Thank you for your feedback.
I am still in the process of fine tuning and testing a long list of tracks. But, my 2 channel music setup with the Adante has never sounded this good thanks to the dual L12s.
Years ago, i got on the hype train for a different sub (influenced by the audiophile forums) and my constant dissatisfaction led to making many mistakes/replacing electronics/replacing speakers/overcomplicating my room treatments, etc and went down the rabbit hole. You have no idea how much cash i have tossed down the drain over the years.
Thank you for rescuing me Andrew Jones+Brian
- William


top
| | |
| --- | --- |
| Reviewer: | Chris G |
| Product: | FVX15 |
I had a Def Tech PF1500 for 25 years and finally moved on to the Rythmik FVX15. What a difference, the drums and bass are not muddled together like the Def Tech. The Def Tech used to jump out with heavy bass a set frequencies. The Rythmik is smooth and clear and was a huge improvement even with out room correction. Once I ran the room correction the subwoofer blends in with my Def Tech speakers and sounds better than I had hoped. Now I\'m looking to sell my Def Tech and get another Rythmik for the basement. The Def Tech was good in its time but subwoofer tech has come a long way in 25 years.

top
| | |
| --- | --- |
| Reviewer: | Jeff B. |
| Product: | 2x F12BO with A370XLR2 (HPF@80hz) |
I wanted to let you know that I love the F12s. I didn't know what I was missing!! With some effort and patience, I was able to get them integrated very well with my Sierra towers using the HPF output (pure 2 channel, no bass management in my stack). The detents on the dials and the continuously variable phase adjustment were vital. The PEQ let me squash a peak at about 60hz. What is really amazing (and was unexpected) was how the soundstage widened and deepened. Everything is much clearer too, from top to bottom - for example, I have a much easier time understanding lyrics. Not sure how much this is from the subs per se or from taking the low frequencies away from the towers.

top
| | |
| --- | --- |
| Reviewer: | Jacques et N. R. (Switzerland) |
| Product: | L12 |
Hi Brian,
Thank for the quick answer. I didn't answered you at once because a few hours after having send this e-mail I found a second hand L12 in some classified, at only 40 minutes by car. Believe me, this is totally unexpected here in Switzerland! Thus, I spent all my time listening to your wonderful subwoofer insted of answering to you!
This is the first time I'm hearing such bass quality, which are not only beautiful, but also makes the rest of the music much more beautiful too. What is absolutely amazing is that I put the sub next to my speaker, started with the default settings and all was immediately perfect. Total "no hassle" system!
I have heard a lot of high end hifi systems during these last 3 decades. I have built several subwoofers, used digital EQ and never got such quality. As example, I'm used to that, with more bass, the level of highs seems lower. But here, it is clearly the opposite: he highs sounds better and louder.
And the same is valid for movies. For me the level is more than sufficient.
And what amazed me the most is to realize that the L12 is your entry model !...
keep up the good job !
Best regards
Jacques

top
| | |
| --- | --- |
| Reviewer: | John S. |
| Product: | E15 |
This feedback is long overdue as it\'s been 4 years since I purchased an E15 subwoofer from you.
In time past, I've experienced the most outstanding, tight, deep, well-defined, fast, visceral, and flat out most musical bass I've ever heard, even to this very day. In not one but 2 rooms and 2 houses both with the same excellent full-range speaker supposedly capable of flat response down to 23Hz. In fact, I remember in the first room around 2002 I was demo\'ing some music for a seasoned bass player and half-way thru the demo he pointed at the 18-inch sub sitting off to one side and said, \"That subwoofer is doing a fabulous job.\" I walked over to the sub and lifted up the power cable to show him the subwoofer wasn\'t even plugged in. Hopefully, this alone should give some indication what bass is achievable with a reasonable room and exceptional speakers and placement. Ok, just a so-so testimony. Nevertheless, in 2007, I sold those full-range speakers for other full-range speakers and remodeled another somewhat less than reasonable room to become my new listening room. 2 big mistakes but I had my reasons. I should note that I\'m confident every full-range speaker has AN if not THE optimal location within a given room to achieve at least some outstanding bass qualities. For example. In one of my earlier rooms, it took me nearly 9 months to find the optimal location for my main speakers to generate their outstanding bass. With these prior experiences, I knew perhaps as well as anybody that achieving truly musical bass that few have ever experienced in any playback system is a real art. Over the next 7 years, after trying every so often to find an optimal location for speaker placement, I had pretty much given up getting anything remotely close to that fabulously musical I twice had earlier. Now defeated, I decided to purchase a subwoofer to at least shore up some of the bottom end. I chose the Rythmik E15 and after playing with the settings a bit, it was a pleasant addition to the system and extended the bass and synergized well with the full-range speakers. Big deal as many can achieve that, right? But it was still much better than no subwoofer. Over time I tried dialing in the sub a bit more and the incremental little improvements were just that. Incremental little improvements. For a time, I fumbled thru Rythmik\'s manuals and summary sheets, sent an email or 2 off to Rythmik for questions and help and I was still left with little more than reasonble so-so me too bass response. After giving up the ghost for a time, I went back to the Rythmik summary sheet and started playing with settings again. Never once moved the sub since initial installation. Only this time when following their summary sheet I tried to read more into each of the config settings, their meanings, and their potentials. And after about 10 more trial and error adjustments, I GOT IT!!! Is it the best bass I\'ve ever heard? No, it\'s the 2nd best bass I\'ve ever heard but it\'s sooo very close to the best I\'ve heard. But I also achieved this level of musical bass in a room that is nothing like my first 2 rooms. Besides all the tremendously important characteristics (including bass previously hidden) that spring to life when getting the bass right, there\'s also the overall presentation that seems to becomes that much more musical as well across the entire frequency spectrum. Prior to finally dialing things in, I had long since forgotten just how much bass including deep bass resides in so much music almost regardless of genre. And most importantly, I had forgotten how much more musical the overall presentation is when the bass is truly dialed in. And when the bass is truly dialed in, it easily becomes the most exciting part of the overall presentation, no matter what you may have achieved in the mids and highs.
To be honest, After finally achieving this level of bass from the E15 I was and remain shocked as I never thought it possible that the Rythmik or perhaps any subwoofer could achieve the speed and definition and depth that I suspected could only be achieved from well-placed, well-designed full-range speakers with faster 10 or 12-inch woofers. What else could I want from the E15 or perhaps another sub? - An 18-inch subwoofer for greater depth - presuming that I lose no or little of the speed and definition of the E15. At the very least I suspect the 18-inch sub would easily go a few Hertz lower while more effortlessly achieve all the other essential characteristics I\'m already achieving. - To have two 18-inch subs as I suspect the 40Hz suckout would disappear and with lowered subwoofer volume setting achieve an even richer more musical and natural bass with less effort than 1 sub. - I employ some fairly pricey dedicated passive line conditioners (1 LC=twice the price of 1 E15) for my other components and would like to employ the same for the E15 as that should impress. - Rythmik to offer their subs with an external amp option in a simple inexpensive metal chassis as I suspect, based on a few tricks I do, I could take such the sub to another level entirely with even tighter, deeper, quicker, more well-defined, and flat out more musical bass than I thought possible. - To be honest, my finally dialing in the subwoofer to near perfection was pretty much a crapshoot. I wish Rythmik\'s documentation and manual did a little more hand-holding. Not everybody is on the same page with regard to bass and/or subwoofer terminology and knowledge about this oh-so-critical region. But at the same time, improved documentation may or may not help since every room and every system is different as is every enthusiast and I\'m confident that achieving truly musical bass is more art than science. Perhaps their documentation could even state that. - I suspect the E15 could benefit from more power. But that\'s just a guess. Bottom line. A fabulously musical subwoofer when done right.
Thanks much, -John
Room / Placement - Dedicated room=12\'x 21\' x 8\' (shoebox dimensions are less than stellar for accurate bass - or so I thought) - Subwoofer placement from center of sub driver= ~5.5ft out from front wall, ~3.5ft out from side wall.
E15 Subwoofer Installation Configurations: - Dedicated 20 amp line/circuit (to ensure sub has on tap any juice it requires) - Power cable cryo\'ed via full-immersion method. - My custom designed points/spikes plus about 60 lbs. of mass loading to help ensure subwoofer is sufficiently coupled/anchored to subflooring. - Low level (RCA) inputs (I have Class D monoblock amps so high-level inputs not allowed?) - Interconnects are cryo\'ed via full-immersion method and are same as interconnects used elsewhere. Using same ic\'s helps ensure input signal characteristics are reasonably similar between speakers and sub.
E15 subwoofer settings include: - ON switch=On position (not auto, not limiter) - PEQ=off (even though I\'ve a bit of a suckout at 40Hz but I often times listen in the 93-105db range and I don\'t want to overly stress the sub) - Delay/Phase=0 - Crossover=120Hz (I had reason to try this high setting and I like it) - Volume=12:30 o\'clock (I\'m using a passive pre with 575wpc amps) Subwoofer - - Line In/Low pass=80Hz/24 - Rumble Filter=On Extension Filter - - Freq=14 - Damping=Hi


top
| | |
| --- | --- |
| Reviewer: | S. Uchida |
| Product: | 2x F8 |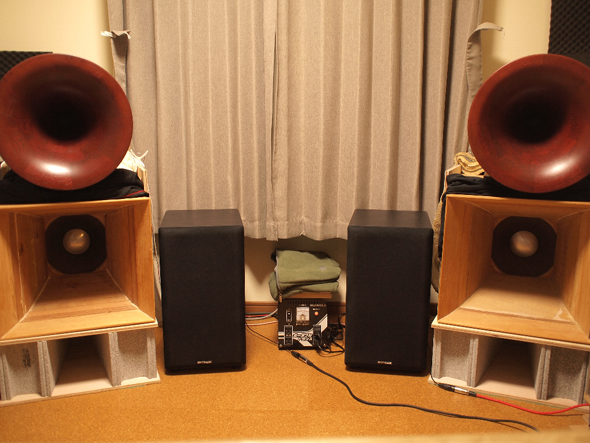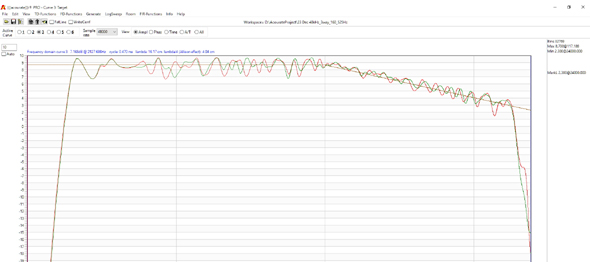 Hi Brian,
F8 are working well. I am pleased the performance of F8. Also I like the sound.I hope introduce it to my some friends. Thank you so much for the advice selecting F8.

top
| | |
| --- | --- |
| Reviewer: | Mikesiskav (Ascend Forum) |
| Product: | F8 |
The F8 is everything I was looking for in a subwoofer: tight, detailed, deep bass all in a compact package. I used to have a JL Audio F112 ($3,000 retail) and I would say that the F8 is at least as good if not better when it comes to bass articulation. The JL probably had a bit more output but I'm sure the F8 can play more than loud enough to disturb my neighbors.

top
| | |
| --- | --- |
| Reviewer: | Randy R. |
| Product: | L12 |
Hi Brian, I found your company by doing Google searches for a commercial version of the sub I would build if I had the know-how, which is to say sealed, paper drivered, SQ and music oriented, and biased toward integration, articulation, and genuine extension over bombast. I also needed it to be small and affordable because I'm married and a working stiff. Bought an L12, and man if it wasn't just what I was hoping for. Mates with my snooty Exposure integrated amp and fancy but aged Spendor speakers like nobody's business. I guess that probably means we\'re both geniuses. Anyway, Thanks, Randy

top
| | |
| --- | --- |
| Reviewer: | psuKinger (AVS forum) |
| Product: | F25 |
I bought the Rythmik F25 earlier this summer, for my dual-purpose music & movies main system. It's the subwoofer that the Rythmik home page mentions as a "very good choice" for dual purpose. That, plus all the input from this community, is ultimately what drove me to go that route.
It's been a nice upgrade over my old sub. And my new speakers (Ascend Sierra Towers w/ RAAL) are/were, in my view at least, a major upgrade over my old ones. I'm *very* happy. For a box-office major motion picture I'll flip the knob over to Low Damping, and it has plenty of output/rumble for my liking, even with leaving the extension at 14 Hz and the rumble filter off. Otherwise, I leave the damping set to High for optimal sound quality during music. I use Line In instead of LFE in and have the knob set to take advantage of the 24 db/octave roll-off with the cross-over at 80 Hz, and I've been very happy with the result.
I love the new speakers; but my wife claims to not hear much difference (or care). But as for the sub? It arrived before the new speaker arrived, so we were able to hear the difference ONLY the new sub made. She instantly liked it, and not because it was bigger/more bass. Because it was quicker/more articulate bass. Cleaner. Better. Less bloated; doesn't hit-and-ring as long. She still comments about it, a couple months later, as a nice upgrade.


top
| | |
| --- | --- |
| Reviewer: | XYVYX (AVS Forum) |
| Product: | F12-300 |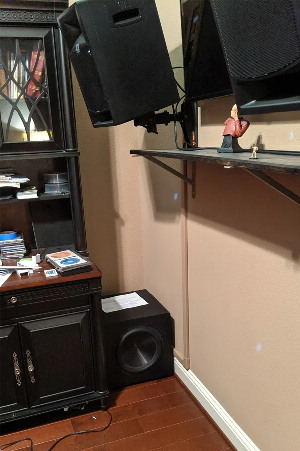 Just another new, happy Rythmik owner here. Got my F12-300 delivered a few days ago & have been tweaking it to get it integrated w/ my JBL speakers. At first I thought maybe it was a tad boomy, but after getting the xover, phase & level dialed-in, it's shaping up to be a really great sub! Tonight I added a little bit of EQ via. my RME dac that helped tame a couple peaks... so far, I'm pretty thrilled with the results and have just been sitting here listening to songs I haven't heard in ages.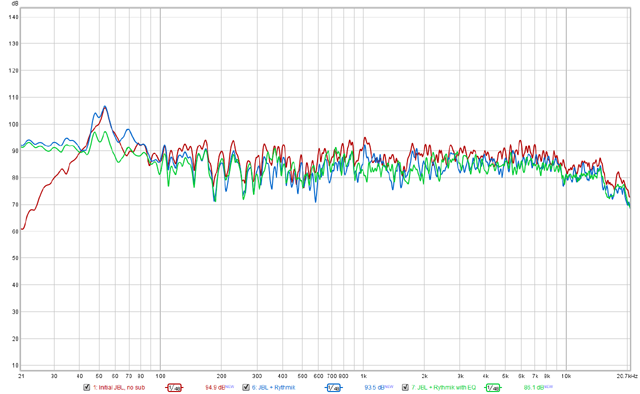 * red - without the sub
* blue - with the sub (xover set around 85hz, 45deg phase, 24db/oct)
* green - with EQ adjustments on dac to reduce peaks around 50hz
I guess I should clarify that this is in my office... a smallish 12x11x12'H room with a corner open to the rest of my house.
The JBLs are some nearfield monitors mounted to the walls 4' apart, centered behind my CPU monitor.
Does anyone think that some bass-traps could affect the little peaks between ~ 45 - 55hz?
Haven't decided how much I want to obsess about smoothing out the response... it sounds pretty darn good & I think the Rythmik has filled out the bottom-end as well as I could have hoped.
I've got some more wall treatments to install to reduce the reflections in the room... what I've done already has helped quite a bit, but it does nothing to rumbly bits.

top
| | |
| --- | --- |
| Reviewer: | Justin M. |
| Product: | 2x F12-300 |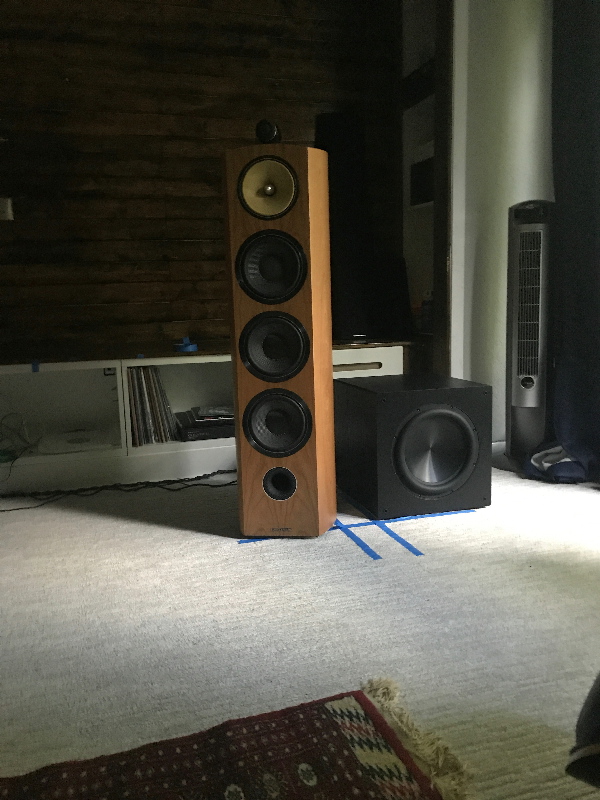 Thanks again for the great customer service and delivery.
The subs are outstanding. I have them crossed at 100hz using Dirac Live to correct everything below 1Khz based on how my room measured. They sound extremely well integrated with my B&W 803d2.


top
| | |
| --- | --- |
| Reviewer: | Robert B. |
| Product: | LVX12 |
LVX12 - Fantastic, musical sub. 10/10!
Like many audio enthusiasts, my concern with low frequency/bass began very conservatively. I dabbled with some sealed designs from other manufacturers and was overall happy until I re-arranged by main listening area. At that point my current subwoofer just couldn\'t provide the output I needed (250w continuous, 600w peak in a sealed box) and I began the ol\' analysis paralysis process. I scoured forums (AVS, Reddit, etc.) for months reading everything I could, changing my mind at least once a day. I had heard of Rythmik before but wasn\'t quick to drink the \"servo technology\" cool aid, mostly because I was too lazy to really read and understand how it works. The more I read and analyzed the more I became convinced I should at least give Rythmik a try. Reports of their excellent customer service and investment in a quality product pushed me over the edge. I started off with a sealed F12-300 but quickly decided that I didn\'t want to go with another sealed design - Rythmik promtply canceled the order and refunded the amount within minutes of my request. I then waited a few weeks before settling on the LVX12. When it arrived, i was impressed with the build quality and weight - for a \"light\" driver it still takes some intention to move the sub around. At first, I had some difficulty integrating with my AVR and speakers and was discouraged. Then, I contacted Rythmik who, once again, responded extremly quickly with a detailed walk-through of sub integration and suggestions for out put (both Enrico AND Brian responded which attests to their involvement and concern for the customer). Once I followed those instructions I was quickly greeted by extremely deep and detailed bass. A primarily a music listener, I couldn\'t be happier about the accuracy and smoothness of the LVX12. You might expect it to be messy or boomy given the ported design, but it is EXTREMELY smooth. In fact, it almost sounds like a sealed sub when used in music mode with one port closed - there was zero chuffing whatsoever and it handled everything I through at it. I also watched an Indiana Jones movie with my young son and had to dial it back a bit as it was too intense for the kid. As with all significant audio purchases, there is always the fear of buyer\'s remorse or the urge to return for something else. I know this feeling all too well, but it does not exist with this product. Assuming this sub has the longevity to match its quality, the only problem Rythmik may have introduced with this product is preventing customers from upgrading due to satisfaction. If you are on the fence about trying a newer brand or something different from what you read on the forums, don\'t be!

top
| | |
| --- | --- |
| Reviewer: | Mitchco (posted on AVS Forum) |
| Product: | 2x F18 |
Thanks @Rythmik for the dual F18's
I listen mostly to rock and concerts The JBL's are digitally XO'd to the F18's at 45 Hz and time aligned with mains using Audiolense. Madonna's Drowned World and Hans Zimmer Live in Prague, as examples, sound deep, tight, and musical. The L12's used previously are no slouch, as I use them with my 2nd system KEF LS50.
The transient response of the F18 is what really sold me. I am not looking for maximum output. The impulse/step response is textbook perfect:
Great fun! Thanks again.
Note from Rythmik: Here are serveral posts and Mitch's own essay style audiolense page for this setup:
https://www.avsforum.com/forum/113-subwoofers-bass-transducers/1214550-official-rythmik-audio-subwoofer-thread-1223.html#post57390652
https://www.avsforum.com/forum/113-subwoofers-bass-transducers/1214550-official-rythmik-audio-subwoofer-thread-1224.html#post57404136
https://audiophilestyle.com/ca/ca-academy/%C2%A0integrating-subwoofers-with-stereo-mains-using-audiolense-r712/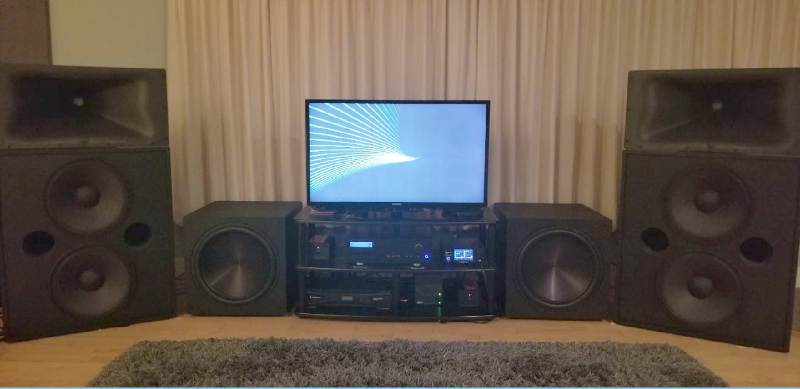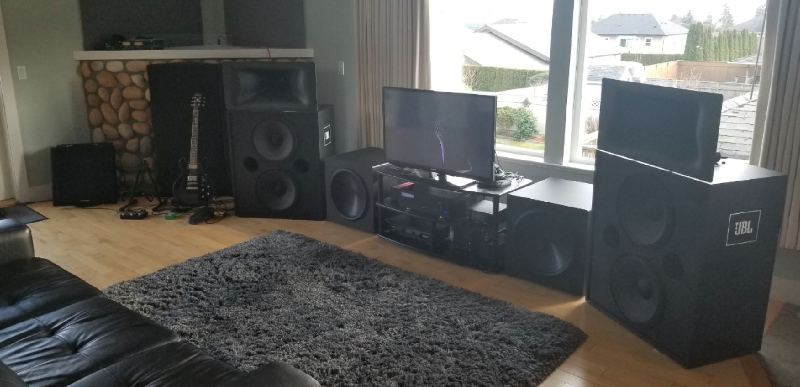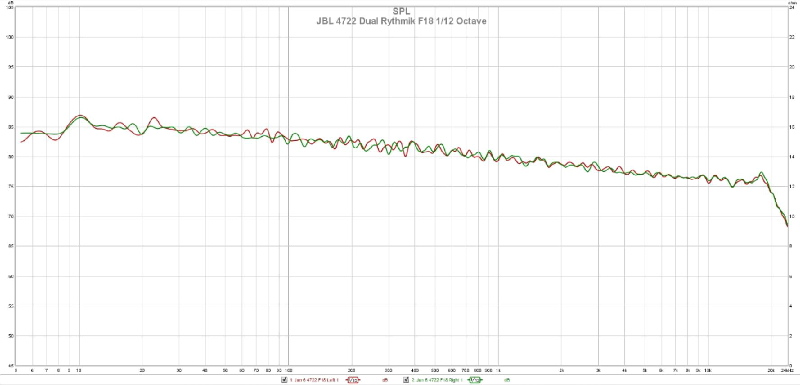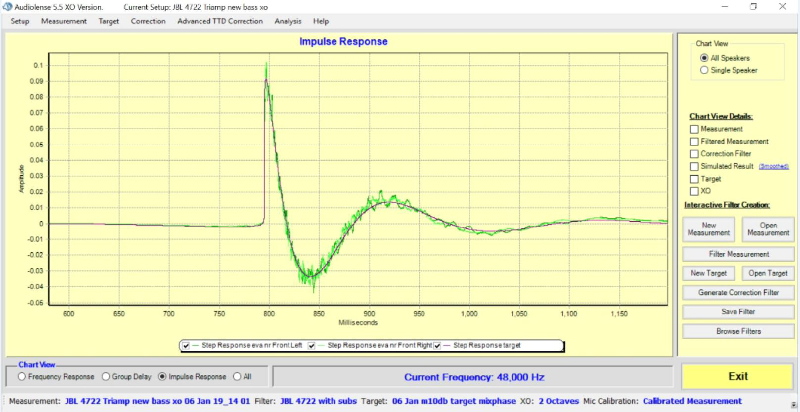 top
| | |
| --- | --- |
| Reviewer: | Pink Soda (AVS Forum) |
| Product: | 2x FV18 |
I realized I forgot to post impressions of my new Rythmiks. I posted here several months ago about not being satisfied with my JTR 118HT pair for music after hearing some smaller sealed Rythmiks in a friend's system. The folks here recommended a pair of FV18s with aluminum cone in my large room and I'm happy to report that these subs gave me everything I was hoping for for music. I found that the song Arsis by Gordian Knot (https://open.spotify.com/album/7rRKPtQLQNdV3qboR1yQun) is a good demonstration of the improved articulation and bass note separation that the Rythmiks offer.
The Rythmiks do shake the walls less than the JTRs for movies, and I was expecting this to be the case. That was still slightly disappointing initially, but since then, I direct mounted some JBL subwoofers directly to my seats (based on the info in this thread: https://www.avsforum.com/forum/19-dedicated-theater-design-construction/2991522-hideaway-theater.html) and this delivers far more tactile response than the JTRs (or any subwoofer probably) could ever hope to. You don't hear the JBLs, you only feel them (but they are much more accurate than other tactile transducers), so they don't take away from the excellent sound quality of the Rythmiks, either. Finally this gives me the best of both worlds for movies and music. The JTRs served me well but I won't miss them.

top
| | |
| --- | --- |
| Reviewer: | Tri Le |
| Product: | L12 |
Hi Rythmik, I just wanted to say thank you for making such an amazing and affordable product. I had a polk subwoofer before and it was ok for movies, but during music it was slow and did not hit the frequencies with the correct timing and sound. My music without proper subwoofer was flat and disappointing even though my towers were extremely accurate and fast. A friend recommended your product and after comparing with a few other brands SVS and HSU, I settled on Rythmik. I\'m glad I did it was the best decision. I needed something compact, but had loud and accurate sound, so I settled on the L12. Deep down I really wanted the F15, but I didn\'t have room for it. Well the L12 was the perfect size and once we fired it up it shook my house and all of our hearts. I\'ve never heard music extend so deep with such clarity and precision before. I honestly can\'t imagine what the F15 or the F18 must sound like, one day I will. But for now I am extremely satisfied with the L12 and the price is astonishingly affordable. Please continue to make wonderful products and I hope your company will be around forever making great products. Regards, Tri

top
| | |
| --- | --- |
| Reviewer: | Jason Gates |
| Product: | FVX15 |
I was in the market to replace my old sub and discovered Rythmik in an online forum. That being said after researching the company I decided to make my purchase of the FVX15. Sub arrived in a couple days and comes packed very securely. Rythmiks customer service(Enrico) was first-class for any questions/issues. After some time and experimenting with placement I INTEGRATED sub into my system and was impressed with its efficient performance. I am not an audiophile but love and have played music for years, I trust my ears and the FVX15 produces clean articulate bass. The only negative to my purchase is now I have to fight my impulses to buy a second FVX15 or upgrade.

top
| | |
| --- | --- |
| Reviewer: | Nathan W. |
| Product: | F15HP-BM-XLR3 (for a Recording Studio) |
Hello Rythmik Audio, Last month I ordered and received my Rythmik Audio F15HP subwoofer. Now that I\'ve had the chance to set it up and integrate it into my system...I just wanted to write a quick message saying, thank you so much for designing and building such an incredible product! I have been enjoying it immensely!! Everything about this sub has completely exceeded my expectations - the customer service, the prompt shipping, the awesome packing job, the design and build quality of the amp, cabinet and woofer and the unbelievable sound quality it puts out!! It\'s very tight, punchy, warm, responsive, detailed and very powerful. I am using it in my recording studio for mixing and I\'ve never had the pleasure of hearing such a flat response at such low frequencies as with my old sub. I spent months researching subs by various manufacturers and when a friend of mine mentioned your company, I went to your website and knew I was at the right place. I couldn\'t be any happier and more pleased with my purchase and I hope your company continues to make these high quality products at such an incredible price for years to come!
Thank you again!!
Nathan
P.S. - One absolute requirement for this sub was to have L/R XLR inputs...I appreciate the fact that this is offered, and is something I didn\'t find in a lot of other subs. The amp that comes with the F15HP is just incredible!!!

top
| | |
| --- | --- |
| Reviewer: | Dan N. |
| Product: | FV15HP |
Brian,
We've had the Rythmik subwoofer for about three months now. Considering our A/V use (50/50 music/movies) and room size (6500 cubic ft), you suggested the FV15HP. This vented subwoofer is spot on and provides the precise, articulate bass you said it would. We auditioned competitive subs but in most cases the bass faded away at low volume. Conversely, the FV15HP retain a nice balance of bass to higher frequencies at these lower listening levels. Couldn't be more satisfied.
On the other hand, if a chest thumping, china rattling experience is preferred this product will present that in spades! We, also, hear bass notes that had not been evident before. The complete audio system, anchored by a Rotel 1067 AVR, and the new subwoofer elicits many compliments.
Our Rythmik experience has been excellent from interaction with the skilled engineers who developed this servo-technology, to prompt shipping of a well packaged, double boxed unit, to outstanding performance of the unit itself.
So, for anyone looking at a new sub I believe a quality experience similar to ours, awaits you at Rythmik.
Dan
PS: Our setup, at this point, is nothing special. Guess "Form Follows Function".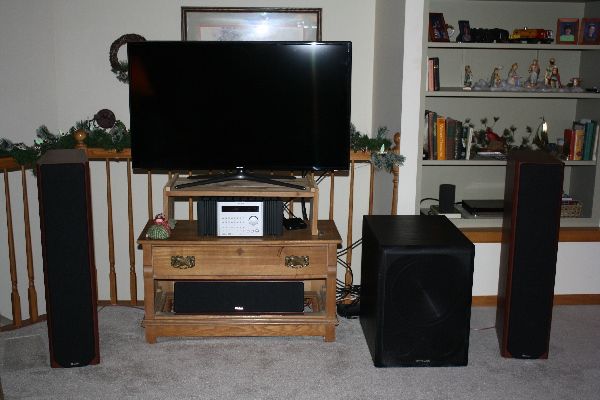 top
| | |
| --- | --- |
| Reviewer: | Randy (Ascend forum) |
| Product: | 2x LV12F |
Received the dual LV12F's on Thursday. Placed them in their designated, non-scientifically chosen locations to either side of the media console on the front wall.
I ran Audyssey XT32 to get everything dialed in. I do not have REW or anything to measure the room, nor do I own a laptop to try it, so I'm only going by my ears.
The overall sound is smooth, clear and balanced. Bass not overpowering but rather controlled. It does not say "Hey, look what I can do", but rather blends in as an extension of the speakers. When watching Avengers: Infinity War on 4K Blu-ray in ATMOS the bass will make the explosions explode, and the big alien machinery will shake the room. I did not detect any strain and it sounded dynamic. I am very pleased with the system! The room is large and open to the kitchen/dining/foyer, etc. so there's a lot of volume to fill, and the dual subs handle it well.


top
| | |
| --- | --- |
| Reviewer: | Bob C. |
| Product: | F15HP (replacing Velodyne) |
Brian & Lynn:
First of all - I have received my F15HP and fired it up. Please know that you folks make a FANTASTIC Sub-woofer! Well packaged, smooth response, articulate, sharp, dynamic - just plain AWESOME! It fills my home theater room with grace, elegance, low distortion, powerful bass extension, and sheer perfection. WOW!
With that said, & with regret, I wish to cancel my order for the F18-BO that is currently back-ordered. When my 2nd Velodyne in my music room fails (as did the first one), I shall reorder the F18 w/o haste. Oh, I can hardly wait for that to occur . . .

top
| | |
| --- | --- |
| Reviewer: | Bob C. |
| Product: | F15HP and L12 (replacing Velodyne) |
My brief review on a Rythmik L12 and F15HP.
A little about myself. I like a good sounding audio system and am 100% two channel audio. (I loathe to call myself an Audiophile, as it seems to have become an old boys club filled with pipe smoking guys sitting around discussing how great the latest $50,000 component is). I have been an enthusiast for more than 30 years and am definitely in the camp of I want good sound at a reasonable price, i.e. Hafler, Adcom, Schiit. My music preferences lean towards classic rock, some classical, electronica, folk and a little rap.
Earlier this year I decided it was time to overhaul/update my system a bit. In the process, I ended up also upgrading my desktop systems and doing room treatments. In my main system, the only significant change was swapping out a Velodyne HGS-12 for a Rythmik F15HP, which I had been eyeing for years. I setup and tune using REW, but all tuning is with placement, phase and crossover, no DSP. So my systems and observations:
Living Room:

Room: 13x21 sunken with a cathedral ceiling from 10-18 feet. The entire room is far larger encompassing an entry way and then halls, as well as open into a dining room. More than 4500 cu feet. It is treated with diffusion and absorbsion.

Equipment:
Sources- Rega Turntable, Jriver Id, Sonos Connect.
Dac: Schiit Gugnir Multibit, Gen 5 USB
Preamp- Adcom GFA-750
Phono Pre- Schiit Mani
Crossover- NHT Active X1
Amp- Sunfire Stereo, just serviced by Bill Flannery
Speakers- Magnepan 3.5, just rebuilt by Magnepan.
Sub- Rythmik F15HP.
My thoughts on the F15HP v the HGS-12 and prior to that Stereo ULD-12s. Holy cow. It is the leap forward that the HGS was to non-servo subs. It takes an entire layer of film and just wipes it away. Cleaner, more tuneful, almost dry sounding, and enormous, deep, incredible bass when called for. I am sure I am not close to hitting it limits. The only thing I have heard that has come close was a Muse 16, which they only built a few of, which was basically the size of a refrigerator, and the Rythmik crushes it in terms of output capability.
Office: 12x13- some treatment.
Equipment:
Source: Dell Workstation with Jriver and Deezer
Dac: Schiit Modi2 via USB
Pre-amp: Schiit Vali2
Amp: Parasound Zamp v3
Speakers: Totem Mite
Sub: Rythmik L12
I previously was running a Velodyne HGS-10 in the office. The L12 sounds nearly identical. Again, I am not running it to its limits. It is tight, articulate, and gets out of the way. The best way I can describe the L12 is a great sub, with sound quality virtually identical to a Velodyne HGS, while slightly larger and 1/3 of the cost of the HGS when new. It is an amazing value and a great sub in its own right. That said, the F15HP is a massive step forward in terms articulation and clarity for music.

top
| | |
| --- | --- |
| Reviewer: | Buck A. |
| Product: | Dual F18 for Magico |
Still enjoying the F18's very much. Haven't bothered with REW yet- not too motivated because I don't feel the need to fix anything currently. I'll get around to it eventually and will send you the plots. Here are a few pics of my system with your subs in place. - Buck

Note: Buck switchs from JL dual E112 to dual F18.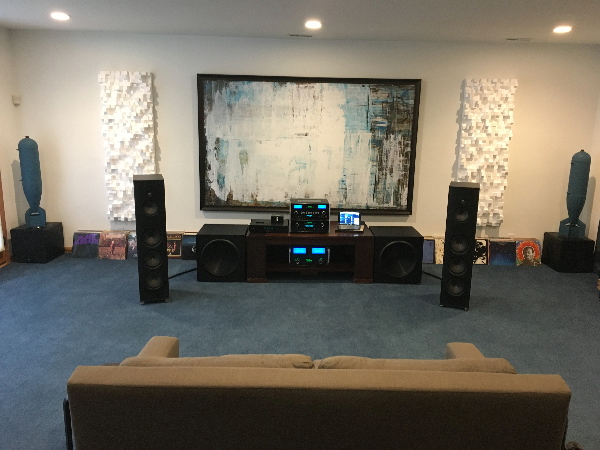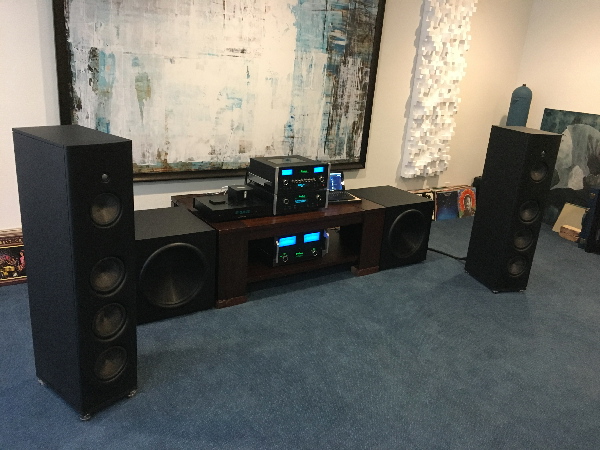 top
| | |
| --- | --- |
| Reviewer: | J. Rajanesan (India) |
| Product: | LVX12 |
I live in South India and listens mostly to Pipe organ music. I was not satisfied with my existing DIY sub as it was not able to produce bass below 32 HZ. After much search and deliberation I bought a Rythmik LVX 12 through Avenue Sound , Bombay. I know this is an entry level model but fitted my budget. I am really amazed at the accurate bass it is reproducing from most of my organ CDs. I am hearing ,or rather feeling many deep notes which I thought never existed in my CD collection. I strongly recommend this sub for organ music aficionados. There is no exaggerated bass and it is very crisp and exactly on time in staccato pedal passages. Some of the CDS I enjoyed in this new Sub are music from Liverpool cathedral - Ian Tracey, Bach by Michael Murray, Benjamin Britten's choral works with organ from Westminster Cathedral, St. Paul¡¯s cathedral- Andrew Lucas, Pomp¡¯s and pipes and so on.. keep up the good work.


top
| | |
| --- | --- |
| Reviewer: | Antonius S |
| Product: | 2x E15HP2-SE |
Enrico, Brian,
I just wanted to drop you a quick not and thank you for an excellent product.
Attached are two pics, one shows the system your subs are playing in (one sub is "hidden" in the cabinet, yet it sits directly on the floor and has no direct contact with the cabinet), the other pic is a screen shot of the low frequency response.
Crossing over, time/phase correction and compensation of room modes is taken care of by the DSpeaker X4 and the bass is superb. Clean, low, not boomy. Spatial reproduction of this system is superb.
More trivial items: Your 'auto on' implementation is great, and, as you promised, the sub emits much less noise than the Velodyne did.
I have copied Tim Ryan, who is a co-developer of the X4 and distributes the product in the U.S. You guys should talk. The combination of two Rythmik subs with an X4 likely achieves great bass for any serious audio system.
Best wishes,
Toni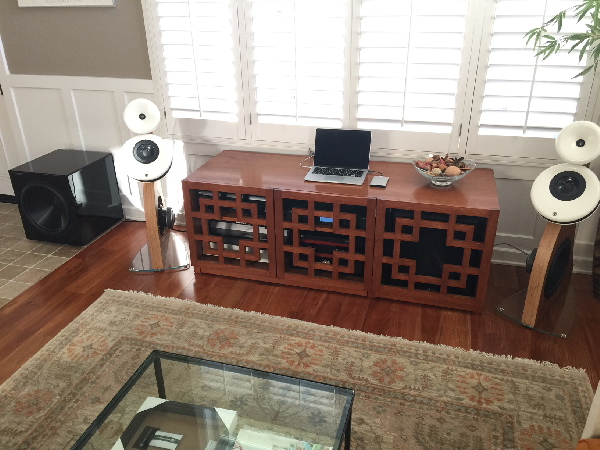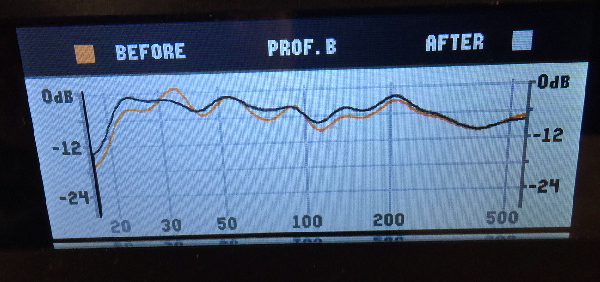 top
| | |
| --- | --- |
| Reviewer: | Mark F. |
| Product: | F12 |
Brian,
I replaced the R49 and R54 15K preamp resistors with 5K to add 6dB gain as suggested. The F12 line input gain is now just right, with the volume around 75%. Other F12 settings are: fixed and variable crossover filters at 50Hz, extension 14Hz, high damping, phase delay ~1-2ms, no PEQ needed. I can't hear any 60Hz hum with F12 directly connected to main AC. System AC is via 3 separate PowerVar balanced isolation transformers totaling 25 kVA. Integration is very smooth! My Quads are 5' from the front wall and the F12 is against the front wall in a 15' x 24' room with front corner objects that help to baffle reflections. Side walls open up to larger areas about 2/3 of the way to the back wall.
The added preamp gain is a great solution for people using balanced connections to front speakers and unbalanced to the sub, with high efficiency main speakers or high main amp gain.
I've tried other subs and there is no comparison. The F12 is a perfect addition to my system!
Thanks so much for your help, and best wishes for continued expansion of your best-in-class subwoofer technology.

-Mark

top
| | |
| --- | --- |
| Reviewer: | Mark Hayes (AVS forum) |
| Product: | LVX12 |
Now that I've had the LVX12 for a few weeks, I just want to say I am continually more and more impressed. For movies and music, it is so clean and so powerful. It absolutely rocks our living room. Everything just sounds right and how it should. I still haven't gone back to compare to the BIC that I had, I've just been enjoying the LVX12 too much to take it away. The only problem is it makes me want to get the FVX15 or FV15HP. One day that will certainly be the upgrade. Or maybe an additional LVX12, or something. We'll see. Just needed to stop by and say how impressed I still am.

top
| | |
| --- | --- |
| Reviewer: | Brad C. |
| Product: | LVX12 |
I'm really enjoying the LVX12 that I just received. I've been switching it between the HT and Music settings depending on the source content and really like the results. The bass is really low, clear, and accurate and really blends well with my Energy RC-70's. I've got a large room with multiple openings and a vaulted ceiling but this sub fills it with clean bass which puts a smile on my face. Thanks for making such a great subwoofer at a price point that I feel good about.


top
| | |
| --- | --- |
| Reviewer: | US AudioList (John from Home Theater Shack) |
| Product: | FV15HP |
A little history of my situation. I had a JL Audio F113 for 3 years then the amp broke and I returned to JL and had it fixed. Then I sold it. For more than 8 months now I have no subwoofer and rely on my main tower speakers for bass. The JL was very good but to me I felt it didn't go low in the 15hz and it was why I sold it. So I have been doing research for a subwoofer for about 3 weeks now, trying to shop for a sub that would go very low since I watch a lot of movies. PowerSoundAudio, SVS and Velodyne were all come to mind. I was about to get the Velodyne 15 inch sub at $4500. But then it is a sealed sub and will not go low so it's out. SVS PB13 Ultra was perfect at first and was considered but at 150 pounds was no go. The PSA V1500 was also perfect at 80 pounds and I know Tom is a wonderful guy and his subwoofer not a doubt is going to be very good and was about to buy it. Then I discovered it had no XLR input and my Meridian 861 only have XLR output. I then again had to move on for more search and Rythmik FV15HP came into the picture with XLR input but again at 120 pounds I was hesitant for a few days. I called Rythmik and talked to Enrico and asked for advice. He told me to pick FV15HP for watching movies. He told me if I went with the 12 inch sub at less weight, it would not go low enough for movies. So FV15HP was it. I finally received the Rythmik FV15HP subwoofer after 4 days and have been playing it for a few hours. Two words I have to say is "Unbelievable sound". The subwoofer is beautiful and very quality made. It could easily equal or surpass more expensive subwoofers that I bought in the past. I put in some music and several movies and this sub blew me away. I thought I was in the Theater. The bass went very low easily in the 16hz range or even lower. I could feel it vibrating my body. The thing is this is very quality bass, and very clean. I have not heard or felt this kind of bass at home before except when I went to the theater and watched U-571 years ago. Music also sounds very musical and fast. To my ears this is the best sound subwoofer that I ever purchased and it will be in my home for a very long time. So that is my story. And if you go with the PSA V1500 I don't think you will be disappointed either. It's just the Rythmik works out very well in my case


top
| | |
| --- | --- |
| Reviewer: | J. Richardson |
| Product: | LV12R |
Just upgraded to a LV12R from an HSU and let me tell you, this things rocks in comarison to any sub I have ever owned. Completely supercharged my movies and music.
Just wanted to send an email and tell you guys how truly satisfied I am with this purchase. You just won over a customer.

top
| | |
| --- | --- |
| Reviewer: | Abd1 (AVS member) |
| Product: | LVX12 |
LOVE the LVX12. I just received it last week and I'm planning on posting some comments after spending more time with it, but so far I'm totally impressed and happy. My room isn't that big, 12x16x8, and it easily fills the room with bass and can make the couch and walls shake. The first movie scene I tried with it was War of the Worlds when the ship emerges from under the street. The output was so much that a cover panel that hides access to a shut off valve came off one of my walls. However, the thing that impresses me the most is how tight and accurate the bass is, and it really shines for music much more than I expected. The tighter bass actually helps the sub integrate into the music more and disappear, increasing the sound stage, especially in depth. I had read this from other people who had initial impressions with high quality subs and I was always unsure of what they meant and how the sub would impact the sound stage and imaging, but now I get it! I was coming from a Reaction Audio BPS212 sub, which has dual opposed 12" drivers and 300w in a sealed box. I was close to buying an LV12R but then the RA sub came out and I thought since I want a musical sub, getting something sealed would be good, and it was a promo for only $400. However, the performance difference isn't even close. I upgraded because I wanted something to dig deeper for movies, but I didn't expect the LVX12 to be so much better for music, but like I said, not even close. I had thought about trying to integrate the BPS212 into my HT with the LVX12, but now I'm just going to sell it. I don't want to degrade the sound at all and the LVX12 is plenty of sub for me.
I don't think you could go wrong with either of the 3. I upgraded to the LVX12 from the LV12R because it was on sale and I wanted the front ports since space is a bit tight in my room, but I bet the LV12R would have been plenty too. Of course, if you can fit and afford the 15" then go for it! You can't make a bad choice here.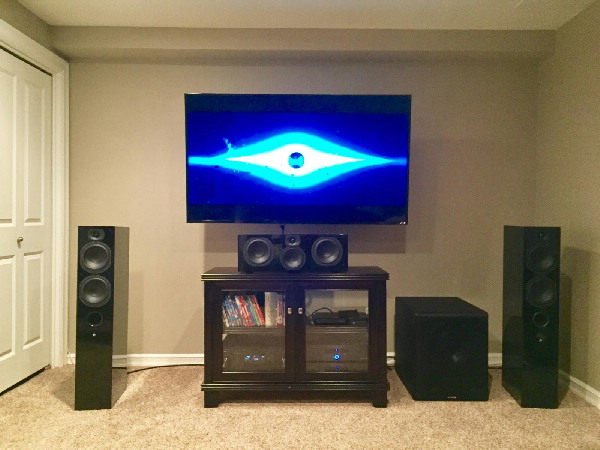 top
| | |
| --- | --- |
| Reviewer: | Randy B |
| Product: | L12 |
Hi, Enrico. I received the L12 yesterday and have integrated it into my system with a cross-over at about 55Hz. Integration was seamless and quite easy. Moreover, the sizenof the L12 fits perfectly into my room. I've left on the grill as I have not noticed any material difference in sound with it removed; does Rythmik recommend orherwise?
The L12 has made a huge difference in that: (a) it gives me that extra bit of articulate, bottom "oomph" for which I have been looking, without sounding boomy; and (b) mids and highs have more clarity and presence, perhaps due to relieving the cross-overs from digging down deep. This is my first experience with a sealed subwoofer and it has really improved my system and listening experience tremendously ... plus, it has prevented me from spending $9K on new speakers, just to get that little "extra" low end which the L12 provides in abundance.
Thanks to the folks at Rhythmik for designing and making such a great product.
Regards,
Randy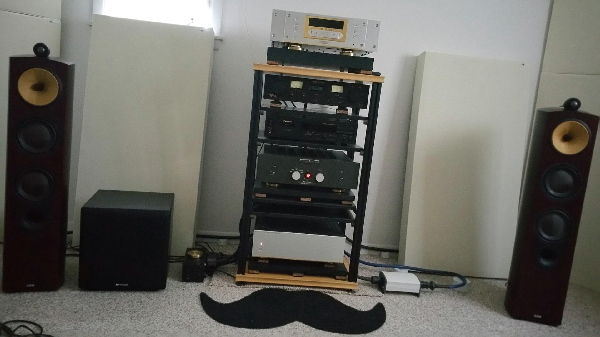 top
| | |
| --- | --- |
| Reviewer: | Kevin B. |
| Product: | LVX12 |
Enrico,

I have now had the LVX12 for about 4 months now and all I can say is WOW! It is so satisfying to now be able to differentiate the many subtleties of those bottom octaves. Not just hear them but feel them as well. It puts a smile on my face every time I fire up my system. Thanks for making such an outstanding product.

On a side note, I have B&W bookshelf speakers and after running room correction it set the crossover at 80hz. I played with 100hz also but felt that the mid bass did not sound as clean. Then I read an article by Dr. David Rich about integrating ported bookshelf speakers with subwoofers. He found that by plugging the ports he could integrate them better and the sound would be cleaner at the crossover point. I plugged mine and reran room correction and the crossover was set at 100hz. He was right, doing this cleaned this area up tremendously and it allowed the sub to better handle that area of mid bass. I now have fantastically tight bass with the punch I have always wanted.

Trying this with ported floor standing speakers may also help other customers depending on model.

Kevin B.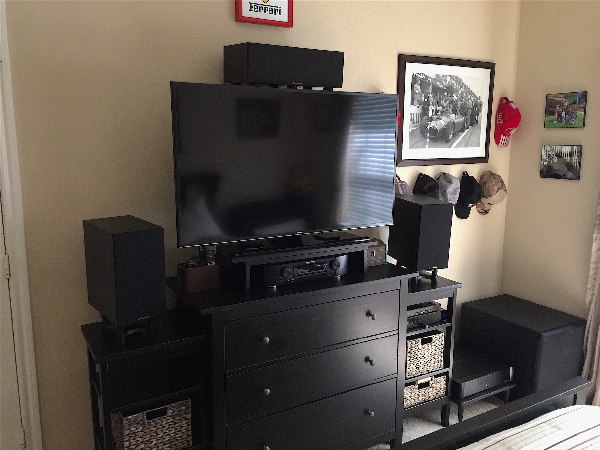 top
| | |
| --- | --- |
| Reviewer: | Bruce W. |
| Product: | LVX12 |
Finally got the first LVX12 installed (was waiting on cable). All I did was shove it up against the wall where it more-or-less has to go, plug it into the Denon AVR-X4000, and run Audyssey again.
Amazing. That's all I can say.
Even dragged my wife down to watch a scene from the Neflix show Daredevil. Just a street scene (with excellent sound design). I told her that a subwoofer adds realism (not that she believed it of course). She was shocked. Started talking about how it helped "suspend her disbelief" and become more immersed in the story. Even said "it's just like going to the theater". Now *that* is WAF.
I'm almost afraid to install the second one, or do something radical like run REW and get them positioned in the room better. But I'll find a way to overcome my fears. ;-)
Thanks Brian.
Oh, yes, she was even impressed by the finish. That black oak patter is vinyl, yes? She's convinced it's a cabinet grade of veneer.
--
Bruce W.


top
| | |
| --- | --- |
| Reviewer: | Gordon G. |
| Product: | F15HP-BO |
Brian and Enrico:
You both were so helpful during my research and purchase that I am thrilled to write this review.
I've had my F15HP for over two weeks now. The quality of the sub was surperb from the packing, easy of installation (even though its really heavy) and build quality through set up and control flexibility.
In my system the F15HP seamlessly integrated for music. The system now has an extended bottom end that is accurate with a viseral presence of the bass lines and the hit of the drums. Feels like being there.
For home theater it enhances the drama and impact from movie scores and effects. I have not found the limit of its output capability on anything I have played.
My previous sub was a M&K V75 MKII. It was good on HT, but could never integrate in my system for music. The F15HP is not better, it is in a difference league of performance and capability.
You have a satisfied customer who will not hesitate to recommend your company and your subs.
Thanks.

top
| | |
| --- | --- |
| Reviewer: | Zachary W. |
| Product: | L12 |
Hi All,
I purchased an L12, and I thought I would go ahead and provide a quick user review.
Integration of the L12 with my floorstanders was quick and seamless, despite my initial misgivings toward pairing a sealed sub with ported towers. The sub does not call unnecessary attention to itself, but instead totally blends in. Though my towers are supposedly flat to around 40hz, I found that the quality and quantity of the bass from the L12 in their overlapping frequency response ranges was superior to that of the towers, and so I ended up setting the crossover much higher at 80hz.
To my ears, the L12 seems to play flat all the way down to the limit of my hearing. The bass is crisp, snappy, and dry; for example, its strengths become especially apparent when listening to double kick drums. I became convinced of the value of the servo control when I realized that the bass was distinctly reminiscent of my electrostatic headphones, albeit with far more punch. Compared to everything else I've heard, no other subwoofer or dynamic speaker has come close to that category of transient response. And, even though it is sealed, it gets plenty loud enough for HT use in my current, small-sized room. Definitely recommended.
Cheers,
Zachary W.

top
| | |
| --- | --- |
| Reviewer: | Rob R. |
| Product: | 2x FV15 |
Brian:
People are so quick to criticize but so slow to appreciate. About 2 years ago I called and you spoke with me patiently answering my questions. I ordered 2 FV15's. I could not be happier. They have outperformed my expectations and easily handle everything I have thrown at it. Being a muscian my jam room is also in my home theater room. When I'm playing guitar with a CD or DVD and have everything cranked I have to be able to "track" the drums and bass. The musicality of your subs and it's ability to accurately track bass and drums musically (not stiff) along with the ability to also drop the damping, open a port and lower the frequency extension filter is amazing. To my ears it is subtle, which is good, and it works. My subs even when pushed hard, don't complain, "don't come apart at the seams". THAT is a testament to your work. So many other companies and their subs "turn to mush" when pushed, the sound becomes blurry and indistinct. In summary, I have found your Rythmik FV15 Subs to be "Galaxy Class Instruments", that is the highest compliment I can give to a manufacturer. Your not just selling subs ...your selling an "instrument". Thank you Brian - Rob R. in Kansas


top
| | |
| --- | --- |
| Reviewer: | PlasmaPZ80U (AVS member) |
| Product: | LV12R |
I got this sub last October to replace a Dayton Audio SUB-1200, which is also a 12" ported sub like the LV12R. Prior to that, the only subs I've owned come from entry level HTiBs (home theater in a box) which are not even worth comparing to the LV12R. Compared to the Dayton, the LV12R has a much cleaner, deeper, more powerful sound that doesn't sound like any other sub I've heard before. And by that, I mean it blends so well with my speakers (currently SVS prime bookshelves and center) that it seems more like the speakers extend down to 20Hz or lower.
Thanks to the bass extension switch on the back of the sub, I can go from intense, 'full body' HT sound for movies, TV shows, and video games to very clean, fast, 'articulate' sound for serious 2ch music listening. And of course, I can use any kind of sound for any kind of source if I please with this simple to use 3 position switch. I also find the LPF (crossover) slope switch to be a useful feature since it can help this sub better blend with my speakers based on content, preferences, and setup.
Anyhow, what matters most is that this sub provides a kind of bass that is unlike that found on most subs thanks to its unbelievable sound quality (thanks to direct servo) and flexible amp controls like bass extension/damping and LPF/crossover slope. Add to that excellent build quality and very impressive, fast and responsive customer service. I don't think I'll be needing another sub as long as this one works (it's that good!). And if/when I do, it will definitely be another Rythmik!"


top
| | |
| --- | --- |
| Reviewer: | Brock P. (Alaska) |
| Product: | F15HP-SE |
Hey guys,
Finally got my whole rig going. I can't tell you how pleased I am with the F15HP. It is smooth, musical, and seem to have no bottom. I have to admit, despite the rave review I'd read, I was skeptical. Until hearing the F15HP, I'd never heard a musical subwoofer. Nor had I heard one that didn't stick out like sore thumb ever time it made a noise. This one, however, blends beautifully with my 802s. During Interstellar, it shakes the walls (and the water in my glass!); and during Gaucho (Steely Dan, DTS remix), it provides bass that's almost imperceivable because it's so musical. I will eventually be ordering another, so I hope you don't discontinue them any time soon.
I've seen on your Facebook page you like to post pictures of people's setups with your products. Below is a link to a ZIP of pictures of my setup. My setup is:
Bowers & Wilkins 802D2 (fronts), CM Centre 2 S2 (center), and DS3B (rears)
Rythmik Audio F15HP (subwoofer)
Emotiva Audio XMC-1 (preamp), XPA-2 (power amp for the fronts), and XPA-3 (power amp for the center and rears)
OPPO BP-103 (blu ray)
IsoAcoustics stands (center and sub)
Audio Magic Excalibur interconnect cables
Panamax MR5100 (power conditioner)
If you want to link me, I'm/brockjon (Brock Jon) on Facebook.
Thanks guys and keep up the incredible work!
Brock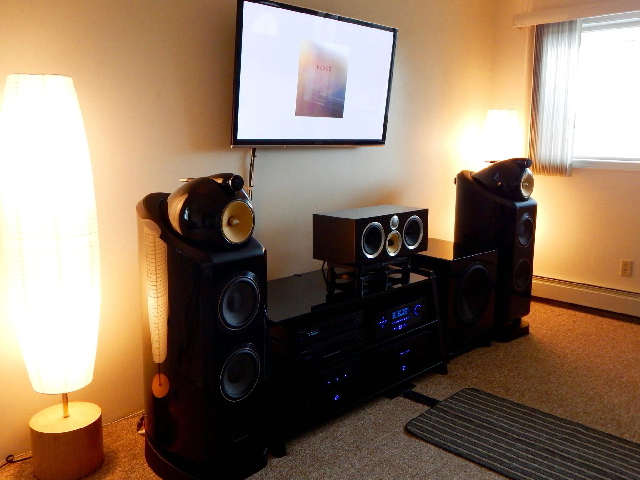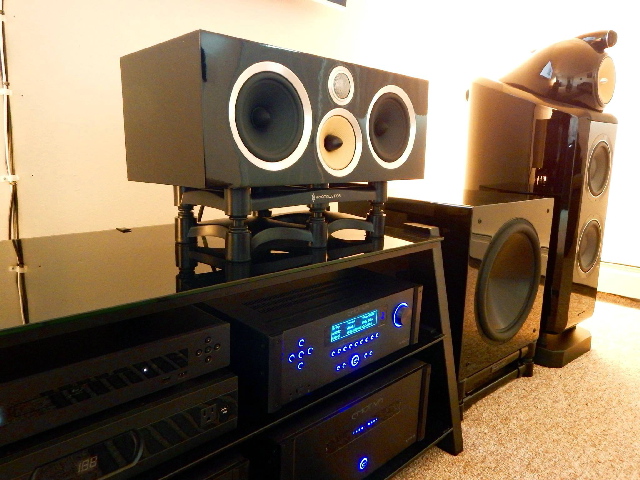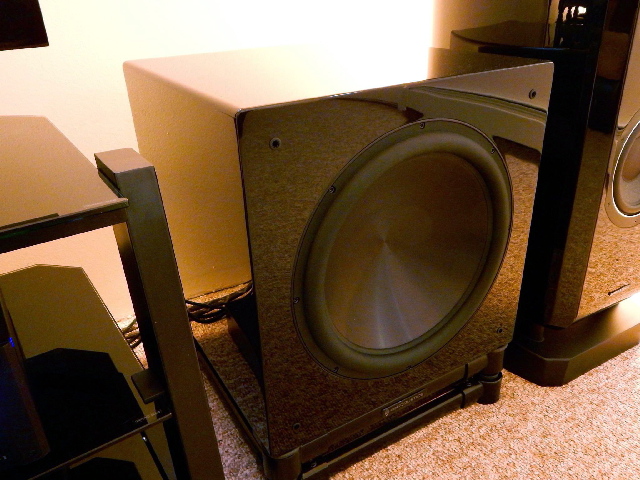 top
| | |
| --- | --- |
| Reviewer: | L. H. |
| Product: | F12SE |
Wow!!! I have been an audiophile since I was 12 years old and am now 69. I have never experienced such a clean, accurate and powerful low end (at any volume level) in my 5.1 listening system. My old MKII Volkswoofer is rather sloppy and limited in comparison. Thanks for this great sounding, and beautifully crafted peice of gear. I wish I had discovered it sooner. Now everything I listen to is "ear candy". L. H.

top
| | |
| --- | --- |
| Reviewer: | Cain (AVS member) |
| Product: | Dual F25 |
I've auditioned and owned many different subwoofers. The better subs do a good job of adding the lowest octaves of sound, so one can instantly notice when they are turned on. The F25 Rythmik Audio subwoofer is significantly different (from every other sub I've heard). The F25 is completely transparent and does not "sound" like a sub at all. I often have to check to determine whether or not the F25 is functioning. The F25 quite simply improves the sound of your main speakers (and my main speakers are +- 1 dB down to 36 Hz.)
I've never heard recorded low frequency sound this clearly or cleanly whether it be an organ, the lowest notes on a grand piano, bass guitar, or the bass sounds in a well recorded movie. For music, I can hear the articulation of low frequencies clearly and distinctly without being overbearing or sounding soft/slow/muddy. For movies I can feel, the power and emotion the Director intended for the audience to hear - and experience.
What I wanted was bass that was authentic, not overpowering, that was fast, hard and responsive. The F25 delivers these qualities effortlessly!
Your initial listening session may at first seem underwhelming because it takes a little time to 'unlearn' years of listening to traditional subwoofers. My advice, listen to some of the best recorded most dynamic uncompressed music you own, and the difference between this subwoofer and every other one you have heard before will become obvious.
My long search for new subwoofers is finally over.
-- J. Cain Dual F25 owner

top
| | |
| --- | --- |
| Reviewer: | Terry D. |
| Product: | L12 |
Hi Lynn
I received one of your L12 for Christmas and after hours of work with a frequency generator to find just the right place to put it. I discovered a low note in my dvd audio recording of Pink Floyd Dark Side of the Moon i did not know exsited on the song. I have heard this album one time at a planetarium on a very expensive sound equipment and don't remember that low note. What a incredible Sub you folks build for families like us on a (limited budget). Thank you very very much!
Terry D.


top
| | |
| --- | --- |
| Reviewer: | Ed V. |
| Product: | F15HP-SE |
Hi Brian,
Thanks for checking in. Yes! More than meets, it *exceeds* my expectations. Nicely done!!
The F15HP is remarkably cleaner and more satisfying than anything else I've heard!
I can hear more detail & texture to the low bass, plus, I've never experience LF extension like this in a home system before. Also I feel as if, somehow, my system has much greater overall dynamic range. :-D
FYI, I did pick up a SB13-U for comparo... it was too easy not to, since there's a Magnolia center just a couple of blocks from me. Good sub, though it lacked LF extension in most scenarios, and was far more distorted too (both audibly & measured with spectrum analyzer + cal'd mic). The SB13-U has since gone back: you win!
I spent an awful lot of time optimizing setup for each sub: I tried countless placement & tuning options. After I get a new pre-pro (or maybe receiver), I'll decide whether I want a 2nd instance of F15HP. The 2nd sub doesn't seem warranted strictly for the sake of SPL; it'd be more for the purpose of calming the room modes.
Some constructive feedback for you...
The 2nd instance of PEQ on the SB13-U was quite useful. On the other hand, I appreciate being better able to control the frequency & Q with higher resolution on the F15HP: narrow peaks (at e.g., 42Hz or 56Hz) that don't coincide with their predetermined set of center frequencies (40/50/63Hz) were hard to tame without negatively impacting adjacent frequencies.
Another feature I'd recommend to enhance your offering: a better way to remotely control "modes" for the sub: it's quite frequent that I'd switch between "movie mode" (20 or 28Hz + low damp + rumble filt) and "audio mode" (14/high/off). I found that I just leave it in music mode now for all but the most exciting, effects-laden movies, since I find myself forgetting to switch or to switch back... honestly it's the last thing I want to get up for (or even think about, for that matter) when it finally comes time to relax & enjoy.
I've been meaning to write you & give some kudos, though I have been extremely busy growing a new team at Apple. I do prototyping there (hardware systems, though not audio). I find a whole lot of joy coming home to enjoy my audio system after a long day: that joy has been increased quite a lot with the addition of your sub.
Thanks for your efforts... keep up the great work!
Best Regards,
Ed


top
| | |
| --- | --- |
| Reviewer: | Rade S. (Audiogon) |
| Product: | F15HP-SE |
Dear Enrico,
It's been almost a full year since I purchased a pair of subs from you.
I would just like to tell you how immensely I have been enjoying them. Now, their location in my room is optimal, visually and acoustically, and their integration with my Pro Ac Response 3.8 is perfect.
They are silent when they need to be and dramatic when they need to be. And when they are dramatic... oh man, they can shake the house and scare the hell out of me!
They have increased my enjoyment of music so much.
Thank you for recommending these fine subs and not making my pockets bleed for months.
Sincerely,
Rade S., DVM, PhD, MS, ACPV
Willmar, MN


top
| | |
| --- | --- |
| Reviewer: | Aaron C. |
| Product: | FVX15 |
Hi Brian, I have watched about 4 movies with these subs and they are amazing. I've owned many subs over the years including dual JL Audio F113's and these subs do a better job of providing the impact and detail that movie producers engineered into the soundtracks. They keep up with the pace, they are forceful while remaining controlled and fill a room with pressure like no other subs I've owned. My room sits 23 people and is about 24x28' with 9' ceilings. It's a dedicated, isolated theater room and these subs are a great compliment to the 9 channel surround system with speakers from Sonance and Sunfire- all powered by Onkyo. Crossed over at 80 hertz the subs are seamless with the rest of the speakers. The sub, once dialed in, becomes part of the main speakers and does not draw attention to itself. Bass is clean, defined and clear. Bass notes and tone are not generic 'bass' like some other subs. You can tell the difference between explosions, bass in music as well as bass from other objects or elements in the movie soundtrack. I'm very pleased with the subs and look forward to enjoying them for years to come.

top
| | |
| --- | --- |
| Reviewer: | Jared D. |
| Product: | FVX15 |
Brian,
First, simply put the sub is awesome. I'm not an audiophile, but I am a (relatively) young Professional Electrical Engineer in Houston and I have a strong background in power electronics. I had Rythmik's name passed to me by a serious audio buff I know who builds his own speakers and amps and had used a Rythmik kit in the past for his sub. I did my research and was impressed with the detail Rythmik went into in their testing/analysis/explanations on their website. Also the amplifiers are top notch.
My sub is used as part of a combination home theater and music listening system. I have run it exclusively with one port open and the sound is very impactful at moderate volumes. At peak volumes it's room rattling (3000-3500 cubic feet space, two very small windows not nearby speakers, sub near a corner). In my situation the room is not optimized for listening, but the bass is beautiful and there is no rumbling or muddy quality to it. I used audyssey to calibrate the system and it immediately informed me to turn my sub down. I've since turned the gain up slightly because I feel like it adds more impact to movies and IMO still doesn't disrupt my music listening experience.
Total experience with Rythmik has been great. Super fast delivery, extremely solid packaging, beautiful solid sub with great sounding bass.
Thanks guys :)
Jared D.

top
| | |
| --- | --- |
| Reviewer: | Anh K. |
| Product: | FVX15 |
Brian,
I've been enjoying my new sub for the last month and a half. I like it so much that I've even watched a few movies that I never would normally just to hear it, such as Stomp the Yard!

top
| | |
| --- | --- |
| Reviewer: | Ole J. F.(Norway) |
| Product: | F12G |
The F12G is a seriously good sub btw! Compared to what I've had in the past (KK DXD12012, ML Dynamo 1000, Audio Physic Rhea), the F12Gs are in a totally different league. Totally impressive!


top
| | |
| --- | --- |
| Reviewer: | John P. |
| Product: | LV12R |
I have had my LV12R Subwoofer for a little over a week now. I spent alot of time deciding between subwoofers. My choices were always from Hsu, Outlaw and Rythmik. One of these Makes, I was going to buy. After so many months of reading the same type of reviews of people saying flip a coin, they are all good. I decided to go with the rythmik LV12R, it being discounted when i bought it definitely helped persuade me as the HSU I was leaning towards was 699, well 639 for their summer sale. I have to say I am extremely happy with my purchase. Coming from an ancient Cerwin Vega HT-10PWR sub, it really only kind of filled the gap, and would bottom out alot. The LV12R obviously blows my old sub out of the water. I threw on some music from youtube that people had labeled bass test or sub breaker and laughed with gittiness from how the sub performed. You know, one of those laughs that are like, is this really happening, wow, almost sinister in a way. I have watched a couple of movies and played some games as movies and games are my main use for this sub. Max Payne, well i didnt realize how much bass/LFE was in this movie. Windows shaking, loose items rattling. Same gitty laughter from the amazement i felt with the youtube clips. Like being a kid in a candy store. No doubt i have to go around now and make sure anything that rattles is made rattleproof. Obviously if you look at the specs, you will see this is a large Sub. Let me tell you, it is large. Could be an end table for a couch. I dont mind the size now, but future apartments or living areas i will need to take into consideration my Sub and where it could go. As this will be something i will not ever want to part with short of winning the lottery, than i'll get one of my own personal IMAX theatres imax is selling now.

top
| | |
| --- | --- |
| Reviewer: | Oscar S.(Mexico) |
| Product: | LV12R |
Hi Brian!
It finally arrived! Box was a bit damaged, it had a hole on the woofer side, but subwoofer was intact.
I'll be playing with my new toy and so far I'm impressed how clean the thing is compared to my BIC F12.
Great Job and keep the good work!
Oscar S.

top
| | |
| --- | --- |
| Reviewer: | Subfanatic (AVS forum) |
| Product: | LV12R |
Just got my LV12R and I love it. So much cleaner sounding than the PB1000, that is pretty much it. I would recommend this to anyone that cares about the fidelity of their bass.


top
| | |
| --- | --- |
| Reviewer: | Emetw (AVS forum) |
| Product: | FV15HP |
Brought my FV15HP home today, holy wow this thing is amazing. I needed a sub that could keep up with my line arrays and this sub definitely does. Before this I had six Acoustic Elegance OB15's in open baffle with ~2200 watts and the Rythmik actually sounds very good in comparison; I get to enjoy transparent bass usually associated with open baffle subs but I also get to pressurize the room and save space doing it. It's a win-win :-). My Denon's XT32 processing dialed back the sub's volume more than I would have expected but that was an easy fix. I am now a servo believer :-)

top
| | |
| --- | --- |
| Reviewer: | Tom H. |
| Product: | F12G-PEQ |
Brian,
Just wanted to let you know how very much I am enjoying my F12G, which I am using in a stereo music system.
It replaces a sealed 10" Martin Logan Dynamo, and there is just no comparison. The ML got great reviews, but it can't touch the F12G -- of course not in terms of extension (~25 Hz v 14), but also in terms of absolute sonic accuracy.
My system is very nice, but I never heard truly natural, integrated bass below 30 Hz or so until I got the F12G.
And the PEQ has ably filled in a deep null centered at just below 40 Hz, making it unnecessary to buy a separate equalizer to do the job.
Thanks for a wonderful product.
Tom


top
| | |
| --- | --- |
| Reviewer: | DrSyn(AVS Forum) |
| Product: | E15HP |
I've had my E15HP for the last 2 weeks.
The original (much smaller) room had a water leak and was unavailable. Of course I decided to hook it up to my 2 channel setup (Linkwitz Orion 3.5 with subjective neutrality mod, Exasound E20 DAC direct to amp). I had high expectations of the E15 in this configuration given the Orion rolloff at 30hz and my expectations were met. The E15 is indeed very musical. I wouldn't say quite as musical as the Orion dipoles, with the room excitation issues of monopoles, but the extension and output blows the Orions away. I like to listen at close to realistic levels, and the dipole bass, while articulate, doesn't have the physics for a lot of low frequency dynamics. The E15 not only blends perfectly, but also adds a new sense of realism. Its the perfect compliment to an otherwise almost perfect setup.
As a side note, It also scares me a little and I haven't been able to turn it up anywhere close to what I used to do!
I played a few movies in this configuration with the Orions as L/R and completely ruined any expectations for my smaller HT sound. I wish I had this space (and budget) for the smaller HT setup. If anything this setup is too dynamic, which is a good problem to have I suppose.
So yeah I am impressed with Rythmik. Unfortunately this means I'll probably have to order another E15HP for my 2 channel setup. The other downside is having the Denon X.4000 in the chain. While its a good receiver and Audyessy XT32 is great and all, I prefer my DAC direct to amp without anything in between. Having the receiver in the chain, adds another veil.
The wife will be thrilled at the idea of buying another subwoofer, this time for the living room....
Cheers,
Greg

top
| | |
| --- | --- |
| Reviewer: | Willscary (AVS Forum) |
| Product: | Dual F25 |
Well, here's my deal...
I am trying desperately to build a theater in the basement of my home. I now have everything other than the screen. Unfortunately, I have had no time for building, so the project is falling behind. As far as being properly calibrated, I have never used REW or any other program, but I am quite adept at using the BFD.
What I can tell you right now is that I was very pleased with my SVS 16-46PCi. A single F25 absolutely blows the SVS away! The difference is incredible.
The SVS plays deep and relatively clean compared to older subs I had. The Rythmik takes everything to a completely different level. I hear tiny nuances in deep bass that I had never heard before. Others use descriptions such as "cleaner" and "more articulate". These are good descriptions, but for me, it does not do justice to the difference in sound. The F25 (single as I have not hooked up the second) is different. The bass is there, it is not weak. It is also not boomy or muddy. This goes well with other descriptions. However, the best way I can describe it is...it is as if a veil has been lifted allowing the sound to be more natural and realistic. "Fast" and "Tight" are also words used to describe the sub. Again, good descriptions, but these do not go far enough.
OK, just a quick idea of what I am trying to convey...I am a fan of Johnny Johnson. Johnny was a tremendous piano player who was probably best known as being Chuck Berry's piano guy. Very late in his life, Johnny created some masterful CDs with other musicians. On one such CD, there is a bluesy track with really exceptional bass. I have always loved this track, but now, it sounds different. The pluck of each bass string can be clearly heard. Not just the pluck of each different note, but the fingers on the strings, the accompanying tones that the sliding skin on the steel strings creates...in perfect time. Don't get me wrong, the old SVS allowed me to notice a bit of this definition, but with the F25 it isn't just noticed when trying to hear it, it presents itself front and center in a way that makes me wonder how I went all these years without hearing this reproduced on my equipment. I am VERY familiar with this music and it sounds completely different and much better to me now!
I don't know if this is the holy grail of subwoofers for me. I do know that it is a real eye opener. I was very happy with my decade old SVS and I am in total awe of the F25's ability to wring so much more music out of the same recordings and equipment that I have owned for quite some time.
I will give you more of a description after the new year when hopefully I will be set up in the basement!

top
| | |
| --- | --- |
| Reviewer: | Thomas Y. |
| Product: | E15 |
I have been enjoying the E15 for nearly 1 year--mostly for home theater use. Thank you for making such a wonderful product. I do not generally enjoy the bass sound that most home theater (and most movie theater) systems produce--rather than hearing deep bass reproduction, I am hearing the distinctive sound of a subwoofer making raspy, bloated, overdriven, distorted, honky, bass-ish sounds which I refer to as "subwoofer sounds". I am not an audiophile, nor a subwoofer expert, but to my ears, the E15 does not exhibit the typical noticable "subwoofer sounds". With system properly set up, it is somewhat difficult for me to even detect that "a subwoofer" is there, rather I hear endless bass extention and authority seamlessly added to the sound of my speakers--which is exactly what I was looking for. My wife and I have been thrilled with our purchase. I would highly recommend your subwoofers to anyone looking to elevate the sound quality of their home theater system.
Thanks,
Thomas Y.
PS. I would also like to add a note on the cost/value equation: For me, this was a lot of money to spend on a subwoofer. However, in my experience, it is hard for most normal people to hear much improvement between a typical $200 audio receiver vs. a higher-end $1000 receiver, or a typical ~$200 speaker vs. a higher end ~$1000 speaker--particularly while watching a movie. However, the difference between a typical ~$200 home theater subwoofer vs an audiophile-quality ~$1000 Rythmik sub is immediately and obviously audible to anyone. The difference is not only noticable, but also significantly adds to the overall enjoyment and experience of the sound. In my view, this represents an excellent price/performance ratio and a tremendous value. If I were putting together a ~$2000 to $2500 HT surround sound system (from scratch) all over again, the E15 would be my first purchase--no question!

top
| | |
| --- | --- |
| Reviewer: | mmccing(AVS Forum) |
| Product: | FV15HP-SE |
After living with my new FV15HP for 3 weeks, I cannot wipe the ear to ear grin off my face every time I listen to it at volume. Or should I say, FEEL it at volume?
Going from two DefTech 12" subs in my 4000 sqft room to the FV15HP was incredible. Not only was the bass deeper, more articulate, faster, etc...it creates earth shaking experiences. When my buddy and I first unboxed it and ran a quick Audyssey calibration and played the IMAX Hubble launch we both thought plaster from the walls and fixtures on the ceiling were going to come down on us! Although neither of us have been to a shuttle launch it felt real with the FV15HP, even only at -13db.
I've always liked Tron Legacy, thought the bass sounded very good even with my DefTechs, but the 15HP brought it to the realm of FUN! It also made Cloverfield scary, WotW disturbing, Monster's Inc surprising, and the Transformers trilogy impressive. It made old music sound new, and new music sound incredible. I dug up an old Telarc classic, Timewarp and discovered new life in its lower octaves.
PacRim has its problems, no ULF and mostly one note bass, but the 15HP brings out sofa thumping mid-bass punch. I love it! Exactly what I was looking for in a sub $1500 sub!
I've been kicking around replacing this or replacing that in my HT, but this has to be my best upgrade besides going FP.
I auditioned other subs from ML, REL and HSU and none of them gave me the chest thumps I was looking for. Granted other ID brands might, SVS was highly recommended, but Rythmik just has the right mix of ingredients to make what I am looking for. Great customer service, great prices, great specs, great reviews, and a great community. Confidence to buy sight unseen/bass unheard.
My fav config is 1 port, 14hz, high damping. Only problem is the occasional port noise. Unfortunately it takes you out of the moment when it happens. Every time it happens I think about going dual port, but ultimately I prefer the punch of One.
Nonetheless, I LOVE THIS SUB!
Thanks Rythmik, Brian and Enrico!
From Rythmik: One port with 14hz and high damping provides a frequency response and sound closest to our sealed version. However, the downside is the roll-off is slower and when playing loud HT with that setting, it can cause occasional port noise. Our recommendation for HT playback with 1 port is 14hz and LOW damping.

top
| | |
| --- | --- |
| Reviewer: | Mijotter (AVS forum) |
| Product: | LV12R |
So I finally Got my speakers and sub hooked up and calibrated. I have a LV12R and I just HAD to come here and rave about it. This thing HITS! I put in Fellowship of the Ring with the Balrog roar and steps that follow and good lord my clothes were literally flapping on my body. My wife and I have seen the movie dozens of times and she said this was the first time she actually felt intimidated by that scene.
I used this scene as a demo for her sister and husband. I had it paused right before the Balrog comes out of the fire and roars. I sat them down and made sure they were comfortable then turned off the lights and hit play and she jumped almost out of her chair. It was great.
VERY happy with the sub. Probably my favorite purchase I made for my HT.


top
| | |
| --- | --- |
| Reviewer: | Robert S. |
| Product: | F15 (370WRMS amp) |
Before I ask my questions, I need to mention that I have owned my F15 subwoofer for just under one year now (order #3725597) and it has changed my appreciation for music in two ways: first, it has seriously affected my taste in music. I used to spend most of my time listening to modern electronic music, but since adding the F15 to my system, I now enjoy a much wider spectrum of music. Two of my favorites are Donald Fagen and Dire Straits. Second, I was originally under the belief that I would probably need two subwoofers to keep up with my front monitors at a reasonable level of accuracy. I quickly realized that my thinking was backwards -- I actually needed to upgrade my front monitors to keep up with the Rythmik ...
I'm in love with the F15, and I promise that once I move into a larger house, you'll have a returning customer ready to outfit a brand new soundroom with a pair of Rythmik subwoofers. Thank you for the wonderful product!

top
| | |
| --- | --- |
| Reviewer: | Samuel J. |
| Product: | F15BM (370WRMS XLR amp) |
I have had the F15 installed in my system since May.
1. Fit , finish, packing etc. are first rate. I hesitated to buy the cheaper plain black finish, but it is so nicely done that I prefer it to the shiny piano black which I have had with other speakers.
2. I am using it in stereo with Soundlab electroststics. Any dynamic sub is difficult to integrate with a diapole. I have tried several. The F15 is the best I have heard. Granted I have been fiddling with the controls for three months, but at least the controls really work.
3. My only suggestion is to replace the volume pot or add a swithch to give it more adjustment room at the bottom end. My speakers are so inefficient, that the volume control is nearly impossibe to adjust in small increments. I suspect that the tracking also suffers.
4. Despite #3, I am very pleased with the F15 overall, and amazed at the comparative value.

top
| | |
| --- | --- |
| Reviewer: | Tomer E. |
| Product: | D15SE-A370PEQ |
i had to write you this while i listen to the bass guitar on echoes pink floyd ,i only got the sub 3 days ago,this might be my first high end system but WOW ! the sub is my favorite piece in it,thanks a lot ,one VERY happy costumer here

tomer


top
| | |
| --- | --- |
| Reviewer: | Rob R. |
| Product: | FV15 (370WRMS amps) |
I am a financial analyst, guitarist and bassist. My Home Theater Room is also my "jam" room. I am old school, all of my guitar and bass amps are tube amps ...I love analog sound. The main requirements in a subwoofer for me are smooth, juicy, dynamic sound ...and the ability to accurately "track" the bass drum and bass guitar. When I'm playing guitar or bass in my Home Theater Room I "have to" be able to adequately hear the bass drum and bass guitar or all is lost. The Rythmik FV15 has literally blown my mind, and my friends as well. I have 2 x FV15's that replaced 1 x paradigm pw2200. The difference is laughable. My 2 Rythmik subs even drown out my 2 x 15 Ampeg cabs powered by a 500w Ampeg Bass Head. The Rythmik's ability to "boom" for movies WITH the ability to accurately track any bass drum or bass guitar WITH dynamic musicality is amazing. The ability to run them with both ports open for sheer volume or plug one port for more depth is not a gimmick, it works amazingly well. The 3 position hi/mid/low damping switch is effective, but subtle (good thing). I have thrown everything at the subs, and they refuse to complain, they just keep thumping out solid, deep ...musical bass!!! 1 Million % Satisfied.

top
| | |
| --- | --- |
| Reviewer: | Fgm4275 (AVS member) |
| Product: | F15HP-BO-XLR3 |
Initial Impressions on a pair of F15HP subs
Current Set-up:
Linkwitz Orion (rev 3.4) loudspeakers
2 - Genesis Technologies (old company) 700 surround speakers
1 - Genesis (new company) Reference Center channel speaker
2 - Linn Aktiv surround back speakers
2 - F15HP subs (replaced 1 Elemental Design A5-350 sub with 15" driver/550 watt amp)
Oppo 95
2 - Parasound A52 (5 channel amplifiers)
1 - Anthem MCA5 (5 channel amplifier, new caps installed in 2013)
Marantz AV8801 (ssp)
XBOX 360
Infinity HD DVR
My emphasis is 75% music and 25% HT. For the last several years, I have been using a ED A5-350. It has been okay with HT, but meh on 2 channel music. The AV8801 easily allows the sub to be used for 2 channel music listening. With the ED sub, I never listened to 2 channel music with the sub in use. With the Rythmik F15HP subs, well I am getting ahead of myself...
CHOICES, CHOICES
In the past couple of months, after speaking with Brian on several occasions about Rythmik subs, 2 channel music, home theater, my HT/music set-up, servo controlled subs and musical priorities, I narrowed down my Rythmik sub choice to either an F25 or a pair of F15HP subs. I shared pictures and dimensions of the two Rythmik sub options with my wife . She very much preferred the option of the two more diminutive F15 HP subs over a single F25 even though the cost was higher. A week ago last Monday, I called Brian and ordered a pair of F15HP subs with black oak grain and the XLR3 upgrade. As I live in NW Houston, I was able to drive to Austin and pick them up on Friday of the same week. Before returning home, Brian took some time with me discussing room placement options and to make sure I understood the function of the XLR3 amps. Though heavy and packed in rather large boxes, we were able to fit the pair of subs into the back of my Nissan Armada. Upon arriving home, I discovered that the subs were very securley braced/packed and doubled boxed. I would not be worried about having these subs shipped via UPS or Fedex. Brian also has a very cool way of easily removing the subs from the box (illustrated in a pictogram on the flap of the inner box) that consists of removing all the padded inserts but one, placing the box on its side and sliding the sub out on the remaining padded insert. I was not expecting a great deal in the looks department from the F15HP subs, so I was pleasantly surprised as to the subs' handsome appearance. The fit and finish was also top drawer.
SETUP AND LISTENING
I positioned the subs along the front wall, flanking my Linkwiz Orions. I used a pair of xlr cables to connect the subs to the Marantz AV8801. I ran the Audessey XT32 program and I was up and running in no time. The Audessey XT32 always sets my Orions as large speakers. For the next 3 hours I listened to 2 channel audio - classical, jazz, folk, pop, blues. During this time, I switched the front configuration back and forth from large to small taking the F15HP subs in and out. The Linkwitz Orions with the very robust 10" SEAS bass drivers (2 drivers per channel) are very convincing in the lower frequencies. As I mentioned before, with the ED sub all my 2 channel music listening was done only with the Linkwitz Orion. After installing the F15HP subs, I can definitively state that I preferred 2 channel audio with the F15HP subs turned on. This was true whether Audessey 32 was on or off. The Linkwitz Orions (set large) sounded excellent without the F15HP subs. With the Linkwitz Orions (set small) and with the F15HPs on, the music sounded even better. On multichannel music (SACD and DVD-A), my system has never sounded better. I have watched a couple of movies with the F15HP subs in the system, and I can also state that HT has never sounded better.
I am extremely satisified with the performance of the F15HP subs.
Fernando

top
| | |
| --- | --- |
| Reviewer: | Sumpwitch (AVS member) |
| Product: | LV12R |
So here is my highly anticipated by no one, yet long winded review of the LV12R¡­
First, I should preface this review by saying that I am a noob. My only experience with HT prior to my new setup was with a Bose Lifestyles system. (Now take it easy ¨C this was purchased by the wife pre-Sumpwitch, so put the torches and pitchforks away). However, I am an avid fan of live music and have played bass for 20 years, so I¡¯d like to think I know what decent bass sounds like ¨C just not necessarily below 30hz.
My room is a very modest 1500 cu. ft., so I knew that this sub wouldn¡¯t have any issues with room size. I will be using this for at least 50% music though so I was a bit worried that this sub would be way too much for my Infinity Primus setup and end up boomy or obnoxious - especially since it has the capacity to go below 20hz. I¡¯m a sucker for a sale though ¨C hence the 65 inch tv that left me with a smaller budget for speakers ¨C and it seemed like Brian extended the price just for me. So after a few days of wife convincing ¨C I pulled the trigger on the LV12R.
I ordered late on a Thursday night ¨C so basically Friday ¨C and it showed up the next Wednesday. Unboxing and setup was a breeze. I appreciate that it was packed in an extra thick box with sturdy foam inside, yet I didn¡¯t need a contractor, team of horses or a plasma cutter to get into it. The sub is shipped upside-down so you can screw the feet on and just flip the box over which is a nice touch. I set it up as recommended by the settings sheet included in the box and was ready to go.
The timing of its arrival ended up perfect for me because the Wed. thru Fri. evenings were spent doing some final touches in my room, so the sub was able to get 20-25 hours on it (mainly music at moderate to slightly above average levels) before I was really able to focus on what it could do. I ran Audyssey on Saturday morning and was ready to go.
THE FIRST MOVIE
So apparently my wife was on another planet (probably visiting her mother) at the beginning of this century and never saw any of the Lord of the Rings movies. What a perfect way to initiate the new room. I fired up the extended Blu-Ray box set and cleared our schedule for the rest of the day so we could dork out.
The accuracy of some of those sounds was amazing. For instance, in ROTK when the trebuchets are launching giant chunks of stone ¨C they land with a nice deep THUD. And that¡¯s it. No lingering overtones or rumble. It¡¯s exactly what I think that would sound like if I were on that field which is a testament to the quality of that soundtrack and the ability of the LV12R to reproduce it. I won¡¯t go into a scene by scene review, I¡¯ll just say that the LV12R exceeded expectation. I could even feel the bass through my giant hobbit slippers (told you I was going to dork out).
The most impressive thing to me is that the sub blew Mrs. Sumpwitch¡¯s mind. Her exact words after the Balrog scene were ¡°WOW! That was pretty f#$%ing cool¡±. Now, this might not sound like a big deal, but this is NOT her thing at all. Here¡¯s an example: One of my other hobbies is racing a blown-alcohol drag boat with some friends. I invited her out to one of our races because the top fuel boats were in town. Now I¡¯m not sure if you guys have ever seen a top fuel car or boat in person before, but those things are ROWDY. 16,000 HP going off at once has crazy low frequency at insane dB. Pretty cool to see even if racing isn¡¯t your thing. So after the first round of top fuelers go off, I looked at her to get some sort of approving nod or gesture to legitimize my hobby¡­she was shoulder-shruggingly unimpressed. Cue the sad trombone. So for her to dig a sub like this is akin to Paula Deen saying ¡°Wow, that low-fat salad was pretty f#$%ing delicious¡±.
SOME TUNES
This is the area I was a bit concerned about. Most of the bands I enjoy either provide an HD stream or allow fans to stream or record their concerts ¨C so I listen to lots of music and was concerned that the sub wouldn¡¯t perform as well here. Some of my worries were put at ease by the accuracy of the movie soundtracks, but I am real picky in this department.
I was having some AVR connectivity issues at first so I had to start with a few DVDs. I started with a few tracks off the Black Crowes ¨C Cabin Fever, followed by the Allman Brothers Live at the Beacon Theater. My initial impressions were just OK. The Black Crowes cover of the Velvet Underground song ¡°Oh, Sweet Nuthin¡¯¡± has a nice melodic bassline that the LV12R handled fine. The Allman Brothers version of ¡°Rockin¡¯ Horse¡± was a bit more impressive. Oteil Burbridge has some nice low pedaling in this song that the sub played tight and accurate. Hindsight being 20/20 allows me to realize that the mix on these DVDs is not very bass heavy so it is hard to make a fair judgement based on them.
The next DVD I tried was Phish ¨C IT (disc 2 ¨C it has no interviews interrupting the music). I could tell from the tune playing at the start menu that this was going to be much different, the bass mix is a lot heavier on this DVD than it was on the last two. Mike Gordon plays with a pick on a Modulus bass that has a graphite neck, so the attack has a very distinct tone. On the intro of the second track (Limb by Limb), when the kick drum and bass come in is a great example of how accurate the LV12R is. It is a simple moment musically, but the kick drum punches in and the simple thum-thum-thump of the root note at 44hz comes through tight and clear with every characteristic of that Modulus bass recreated perfectly. I really only meant to play a track or 2 off this DVD, but I didn¡¯t stop listening for 2.5 hours (and I have seen this DVD a number of times and was at this festival). All I can say is ¡°WOW¡±. I don¡¯t quite know how else to describe it other than it felt like my ears had just got laid. Maybe THAT should be the Rythmik slogan.
I have since fixed my connectivity issues and have thrown all kinds of stuff at this thing. Flea, Claypool, Steve Harris, Victor Wooten, Bootsy¡­the LV12R just shrugs them all off. Drums sound amazing through this. Put on Zeppelin¡¯s ¡°When the Levee Breaks¡± and you¡¯ll swear you are standing in that stairwell where Bonham recorded it.
I did not put any rap, dub-step, or bass competition tracks through it because, well frankly because I don¡¯t care if it can handle those or not. Just not my thing that¡¯s all.
CONCLUSION
I realize that my setup and room are very modest and that it wouldn't be hard to fill my space with good sounding bass. There might even be other subs in this price range that are comparable, but if there is a non-DIY sub out there that is better, goes lower, or is more accurate for what I paid ¨C I¡¯ll be a monkey¡¯s uncle.
I love the LV12R. I¡¯d let it date my sister if it wanted to. My only regret is that this sub may have opened a can of worms on another expensive hobby (like playing in bands and racing boats).

top
| | |
| --- | --- |
| Reviewer: | Newc33(AVS member) |
| Product: | LV12R |
Okay so Iv put over 20 hours on my new rythmik lv12r and I'm ready to do a final review on it.
First of all my room is 12x13 and has pretty crappy room acoustics. My corners grab most of the bass so when I did my demoing I sat in a specific spot in the room where the bass is good but not crazy overpowering like it is in the corner
I ordered my sub on a Saturday and it arrived to my house on Wed so it was pretty quick.
When I received it the box was slightly beat up and a hole in the middle corner of the box but there was no damage to the sub. It was not double boxed but shipped with nice thick foam on the inside to keep the sub away from the box invade any punctures or damage was to happen.
Setup was realitivly easy just a power cord and an lfe. Although I really didn't know how to use the sub at first (there were options such as lpf slope and bass extension I was not used to. However simple reading of the directions made it easy to understand what theese options did and even recommended a setting for music and movies.
My intitial thoughts of the sub after running yapo were actually not the greatest. I had to turn the volume level on the sub to about 80 percent and +5 on my avr to get significant power gain results over my dinky pro.sub 600. I continued to play a little rap music to let it break in for a few hours and then re ran yapo.
The second time was a little better as I had the sub volume to 70 Percent yapo put my sub at about -1.5 on my Avr. I could feel the opening up more around the 40-90hz range (I'm guessing I don't have an spl meter yet but I will soon) at mid level listening. The sub seemed to be getting more punchy and slightly more noticeable or maybe better worded made a nicer presence. I listend to it like this playing different movies and music for about 10 hours. In this time I realized it also takes time not only for the sub to break in but my ears as well and just as importantly. Ill explain that next
The sub I was previously using is a little deftech pro sub 600. When I first got it I thought it was awesome! And still.do think its a nice little sub for its size. Anyway when I first got my rythmik I thought it was underpowered because I was used to the boomy sound of my pro sub. It took time for me to get used to how amazingly the lv12r blended with my speakers. It blends so well that its really was hard to tell it was even on at times of low and even medium lfe. That's exactly what I wasn't used to and its exactly why I thought the lv12r was underpowered. Its cause I was used to the boomy obnoxious pro sub. Also remebet that at the same listening.g levels the pro sub was at 90 percent cap where the lv12r is at 30.
After 20 hours and and running yapo for the final time the final results were 55 percent on the sub and 0 on my avr which I bump to +3 for movies. After whatching some blues rays that consisted of hulk,the avengers,looper, lord of the ring 1, and many others I have to say I am in love with sub. It has opened up sooo much and I now realize the deep quality tight bass of has. My ears are used to it now and I wonder how I ever called this sub underpowered.
On thing I love most is how just when u think this sub is close to being.g maxed out its not. It keep powering through even the hardest lowest hitting lfes without any sign of distortion or loss of control. Honestly I have never heard it distort yet even in my torture tests where I thought it would for sure.
Also this sub is the most accurate tightest sounding bass I have ever heard. Its very fast and I belive it can keep up with anything and probably put anything to shame in its price range.
Hats off to rythmik I don't thinks there is a better sub for 550 dollars out there period. I love it.
If I missed anything let me know guys! Its my first ever sub review so go easy on me hahaha:)

top
| | |
| --- | --- |
| Reviewer: | Mlundy57(AVS member) |
| Product: | F12 |
The F12 is up and running. Boy oh boy this thing is sweet. I realize that conventional wisdom is that in a 4,000 cubic ft room I needed a 15" and/or ported sub but I'm glad I stuck with the 12" sealed. I have it hooked up with both the LFE and line in from the preamp outs (and no, the earth's magnetic field did not reverse itself ). I ran Audssey with LPF on AVR/12, crossover at 50 Hz (my mains go down to 44 Hz), Delay/phase at 0, rumble filter off, & extension filter at 14 Hz mid damping. I'm using a Marantz SR 7005 AVR. Audssey set the sub at -0.5dB and about 2 feet farther away than my main speakers.
For music I listened to Beethoven's 5th, the Telarc Cincinnati Pops recording of Tchaikovsky's 1812 Overture (in both DTS 5.1 and 176/24 flac formats), and the Chesky test disc Vol 2. For movies I watched parts of Demolition Man and Serenity both in DTS-MA.
I listened to the sub with the damping set at both mid and low and volume ranging from the initial -0.5 dB to +2.5 dB (3 dB hot). I ended up settling on the initial settings of mid damping and -0.5dB.
Even with damping on mid and not running the volume hot this sub fills the room amazingly. With music the bass is full and sweet, not overpowering or localized. You cannot tell the bass is coming from the sub unless you walk over and stick your ear next to the driver. The bass strikes and cannon fire in the 1812 Overture are full without being overpowering or harsh. As for the movies, Serenity has never sounded so large or come to life so much. This 12" sealed sub can definitely shake the walls (I may have to switch to high damping once the wife gets back home ). Even though this sub is putting out way more punch than anything I have had in this system before the effect is desirable not harsh or nerve grating.
Up until a few weeks ago I had never heard of Rythmik. I'm sure glad I did and that you all have been as helpful, and tolerant, as you have. Brian, thanks for your help both on the forum and over the phone.
By the way, did I mention the F12 is on sale, $787? The F12 is so far beyond any other $800 sub I've been auditioning over the past two months it isn't even funny. It even blows away the $1,600 servo sub I was trying to justify buying.
Bottom line: even if your listening area is larger, don't discount the F12, I couldn't be happier. Now, back to the movie

top
| | |
| --- | --- |
| Reviewer: | Shobaffum (AVS member) |
| Product: | LV12R |
I recently purchased an LV12R for my similarly sized basement room (3100 cubic feet, fully closed). I was upgrading from a Boston PV800, which from what I can tell is similar in output to the BIC PL-200. It's a 12" 300 watt ported sub, ironically the same as the LV12R. I examined the spreadsheets from Audioholics to compare what I had with what I wanted. The Boston has been a durable sub for 10 years (I always use my sound system for TV watching) but it was not really able to produce the output and extension I wanted in my new basement. My target was something on the spreadsheet that produced >100db at 20Hz whereas what I had could manage 85db at 20Hz.
The comptetitors I looked at in this price range included Outlaw, Epik and SVS (among others). What impressed me about Rythmik is that it uses a servo amplifier (a unique kind of servo at that), Brian posts all the time in this thread with advice and the reviews of the sound quality have all been glowing.
Now that I have the LV12R in my room I can see what everyone was raving about. Quality AND output. Wow it is really nice. I struggled for awhile trying to decide if I should get an F12 instead but from what I read even the ported Rythmiks are quality enough for music and when it came down to it I watch more movies than listen to music so I need the output. I actually had 2 subs running in my room before (the second was a Mirage LF100, 8" ported) to smooth the standing waves but this single Rythmik has much more output and extension than the other two combined.
I queued up one of my favorite bass scenes - SW Episode 2 when Amidala arrives on Corruscant. The LV12R was able to play the ship's engine noises/sonic boom and the explosion effortlessly where my previous subs would chuff and bottom. The explosion actually flapped my jeans and jiggled my couch! I can see the benefit in having a second sub to smooth out the standing waves but the output of this thing in my room was definitely satisfying and exactly what I was hoping for in an upgrade.
My only problem now is that I can appreciate having the extension switch in medium or high for music and low for movies so I am frequently getting up to flip that. If the LV12R didn't have the option I'd probably be blissfully ignorant but since I've heard the difference I find myself prefering different settings for different things. In the med or high extension setting it is completely satisfying for music. This is definitely not a one note subwoofer. Well done Rythmik!

top
| | |
| --- | --- |
| Reviewer: | Terrance T. |
| Product: | F12BO-PEQ |
Hi guys,
I just wanted to let you know that I've been trying out the F12 for a couple of weeks now and I'm loving it. I haven't gone through the entire setup procedure yet, but even just roughly positioned between my two ProAc monitors and calibrating the balance by ear, I am getting a wonderful, deep, and punchy low end that I have never heard before. Apparently this method of repositioning the source of the low end has solved many of my bass cancellation issues.
I have not yet received the 'in line' HPF filters I ordered from Harrison Labs, so for now I'm just using the HPF output of the F12 to feed my Rotel amp and ProAcs. Seems to work well, and have not noticed the 'veiled' sound that one audiophile reviewer was mentioning. But will compare to the Harrison filters soon.
Thanks again for all the advice. Once I get into doing the full setup procedure as specified on your website, I may need to consult with you again. But for now, very satisfied. Thanks for this great solution to the low frequency monitoring challenges I was having.
Best regards, Terrence


top
| | |
| --- | --- |
| Reviewer: | Eric B. |
| Product: | dual F12-XLR3 |
Brian,
Set-up the 2nd F12 and switched the amp on my current F12....stereo subs!!!
The quality of the bass with one sub is already great..... adding the 2nd has filled out the soundstage, and balanced out the room interaction....plus, I listen to a lot of live rock audience recordings and soundboards with two drummers...dual F12s has me in bass nirvana
I am now in the "done for now" situation.....Magenpan 1.7 and dual F12's is about as good as I have ever heard and best I have ever owned. The word of mouth about Rythmik + Magnepan, as winning combo, is the real deal. My sub search is over!
Thanks again for your patience with me, great communication, and awesome products
sincerely,
peb


top
| | |
| --- | --- |
| Reviewer: | Michael L. |
| Product: | F12 |
The F12 arrived today. Good thing you use double boxes. The outside box had some damage but the inside one was untouched.
I posted the following on the AVS forum a little while ago:
The F12 is up and running. Boy oh boy this thing is sweet. I realize that conventional wisdom is that in a 4,000 cubic ft room I needed a 15" and/or ported sub but I'm glad I stuck with the 12" sealed. I have it hooked up with both the LFE and line in from the preamp outs (and no, the earth's magnetic field did not reverse itself). I ran Audssey with LPF on AVR/12, crossover at 50 Hz (my mains go down to 44 Hz), Delay/phase at 0, rumble filter off, & extension filter at 14 Hz mid damping. I'm using a Marantz SR 7005 AVR. Audssey set the sub at -0.5dB and about 2 feet farther away than my main speakers.
For music I listened to Beethoven's 5th, the Telarc Cincinnati Pops recording of Tchaikovsky's 1812 Overture (in both DTS 5.1 and 176/24 flac formats), and the Chesky test disc Vol 2. For movies I watched parts of Demolition Man and Serenity both in DTS-MA.
I listened to the sub with the damping set at both mid and low and volume ranging from the initial -0.5 dB to +2.5 dB (3 dB hot). I ended up settling on the initial settings of mid damping and -0.5dB.
Even with damping on mid and not running the volume hot this sub fills the room amazingly. With music the bass is full and sweet, not overpowering or localized. You cannot tell the bass is coming from the sub unless you walk over and stick your ear next to the driver. The bass strikes and cannon fire in the 1812 Overture are full without being overpowering or harsh. As for the movies, Serenity has never sounded so large or come to life so much. This 12" sealed sub can definitely shake the walls (I may have to switch to high damping once the wife gets back home). Even though this sub is putting out way more punch than anything I have had in this system before the effect is desirable not harsh or nerve grating.
Up until a few weeks ago I had never heard of Rythmik. I'm sure glad I did and that you all have been as helpful, and tolerant, as you have. Brian, thanks for your help both on the forum and over the phone.
By the way, did I mention the F12 is on sale, $787? The F12 is so far beyond any other $800 sub I've been auditioning over the past two months it isn't even funny. It even blows away the $1,600 servo sub I was trying to justify buying.
Bottom line: even if your listening area is larger, don't discount the F12, I couldn't be happier. Now, back to the movie.
When I upgrade my other system another F12 is going in it !!!

top
| | |
| --- | --- |
| Reviewer: | Kevin A |
| Product: | FV15HP |
I purchased an FV15HP about two years ago, which is usually the time period I start thinking about an upgrade. Not so with the Rythmik sub. It is a perfect blend of brute force for movies and detailed nuance for music. It still continues to thrill each time I use it. I've shifted more from movies to hi-def audio, and the sub continues to reveal information and complexity in tunes I've listened to hundreds of time, the latest being Led Zepplin's Moby Dick. I usually skip the drum solo but it sounded so amazing and life-like that I had to listen to it a couple of times. Keep up the great work.

top
| | |
| --- | --- |
| Reviewer: | Robin (HK) |
| Product: | F12SE |
Hi Brian,
Just received it today! Though only listen to a few albums & 1 movie so far, 3 words: Amazing amazing amazing! I know it'll get even better as it runs in but the F12 already smokes my 1 yr old SVS SB12NSD but I guess you already know that. It's really amazing how clean the low frequency can sound. From memories I think Rythmik better than MK or JL Fathom. You're a genius!
Robin
Hi Brian,
My jaw drop again! As I run-in the F12 more, about 20hrs now & just watched Star Trek V., the experience is phenomenal, the low frequency attacks are so real & dimensional because the booming or distortion are gone. The F12 ultra low noise floor is more apparent as it run-in more. The combination of F12 with my ProAc 110 (bookshelf spk) has remind me of my listening experience of the 6ft tall Wilson Watt I sh*t you not! Even the movie finishing classical music was a joy to to listen to the last drop. Impressive indeed!
Robin

top
| | |
| --- | --- |
| Reviewer: | Robert T (Philippines) |
| Product: | F12 |
Your F12 subwoofer system beats premium price brands like JL Audio, Velodyne, REL in bass accuracy according to observers during our recent (ie 2011) November Hifi Show in Manila. All feedbacks are positive especially from first time listeners of combined speaker and sub.
>

top
| | |
| --- | --- |
| Reviewer: | Michael L. |
| Product: | F15 |
I feel like I am cheating the musical gods. The F15 blends so naturally and precisely and stays out of they way when not needed in both audible and inaudible bands. I cross it over at 45hz and it insinuates itself into my Unifield 3s soundstage without stepping all over the Von Schweikerts. It's a huge upgrade for sure; Blows the REL away!
I have the sub connected speaker level and LFE simultaneously to accommodate 2 channel listening and HT in the same system which saves on having to buy separate subs for each.
Michael L.
Attorney At Law


top
| | |
| --- | --- |
| Reviewer: | MasonS (from AVS forum) |
| Product: | FV15 |
The sub in that picture was a DIY ED sub that replaced an A2-300, I had 4 subs in my room when I took the first pic. That one ED DIY sub, one Klipsch RPW12 and the Def Tech towers with built in 10s. I since sold all of the subs and am down to the single FV15 and there is no comparison, hands down the FV15 smashes all of those subs!
It is sooo much cleaner sounding it took a while to get used to, but now I am hearing things in songs I never heard before. I just never had a sub this articulate to really show off some of the songs I thought I knew. These are songs I have heard 100s of times and they sound brand new all over again. Also for movies, this single sub can shake my house! My roommate is across the house and I shook all of their shampoo bottles off of their shelves in the bathroom across the house and my sub is on an isolator!
I am glad I went with the Rythmik, for music it is sooo crisp and clean and yet it still has that low earth shattering bass for movies. My old setup was not bad but I just never knew what I was missing till I got my FV15. I think I will get another here pretty soon to balance out the room aesthetically because this guy is a work of art to me.

top
| | |
| --- | --- |
| Reviewer: | Mike S. |
| Product: | F15HP-SE/Sierra-1 |
Just wanted to drop you guys a line to let you know how happy I am with my F15HP-SE which I got a few days before Xmas (bought via Dave @ Ascend). It is everything I hoped it would be in my system; clean, transparent, and detailed, even at low listening levels. I thought I'd relay the story of what my wife said last night:
My wife Beth rarely sits with me when I'm listening to music, but she came downstairs late last night to get some water. I had my Diana Krall station on Pandora playing from the OPPO, and Beth came and sat down for a while. She listened to a few songs by Diana Krall, Tony Bennett, Ella Fitzgerald, and Michael Buble. I said "listen to this"; and muted the Rythmik with the SMS-1 remote for a few seconds, then un-muted it again. "Wow, it's like adding a whole other dimension to the music!" said my wife. "That subwoofer was a good buy. My favorite part about it is that you don't even know it's there, its just part of the music and you can't tell there is a subwoofer in the room."
High praise indeed from someone who isn't much interested in music or the audio hobby.
------------------
I wrote the above last month, but didn't get around to sending it. I bought a BAT (Balanced Audio Technology) VK-31SE preamp from Audiogon and to arrived yesterday. I listened to the BAT with my Sierra-1's and F15HP-SE/SMS-1 for the first time last night after the kids had gone to bed. Wow! Now I know what people mean when they talk about "texture" in the bass. And if I thought the Sierra's disappeared before, I was mistaken. They were hidden before, but they have vanished now, and there is nothing but music floating in space.
At this point I have to wonder how much better things can get; thanks to both of you for providing such fantastic products at reasonable prices!
I'm 40 years old now, and I'm disappointed that I have gone most of life until this point without experiencing really great music! At least my children will always know great sounding music, and not miss out like I did.
Thanks,
Mike S.


top
| | |
| --- | --- |
| Reviewer: | David D. |
| Product: | E15 |
Hi Brian,
Just a follow-up to let you know how pleased I am with the subwoofer. It sounds (and feels) fantastic...not pushy and obtrusive, but clean and nice with rumbles in all the right places. Thanks again for all of your help!
David

top
| | |
| --- | --- |
| Reviewer: | Reto, Switzerland |
| Product: | F12SE |
Brain,
Thanks for the helpful support and the fast troubleshooting.
The subwoofer sounds awesome now!! I never thought that it is possible to create such a sophisticated and incredibly dynamic bass!
Thank you
Best Regards
Reto


top
| | |
| --- | --- |
| Reviewer: | Tank |
| Product: | F15HP |
I have moved the settings around experimenting but do not really notice a huge difference but I haven't done detailed tests with specific material across the board for each setting - will do that over time. I still do not really understand how each control affects the output. I'm just not well enough read yet to grasp 1st, 2nd, 3rd, 4th order etc. It's a bit above my level but I am learning by reading.
The F-15 fills my area completely. I have done some serious listening with bass heavy tracks - Rush, David Gilmour, Chris Rea and can hear the note scales beautifully. I am a guitarist and a former drummer/percussionist so I can distinguish a note's tonal qualities and the F-15 really delivers. Neal Peart of Rush has an enormous array of drums and the detail that the F-15 reveals when he is thundering away is so precise. Granted, my main speakers are not what most would consider audiophile grade but they do a pretty good job and I am happy with them (for now- until funds are available to look at more upgrading). The power this thing puts out is staggering, the LFE from movies is visceral. I read on the forums of how people are running three or four15 inch subs in rooms smaller than mine and scratch my head... I really think that my single F-15 does everything needed for my big room but then again, I am somewhat new to this.
As you can see from my ownership of the old M&K sub (purchased 1991), I buy stuff and keep it forever - I do my research and am usually very happy with my decision. The F15-H600 was an excellent choice and will probably be the last sub I ever need. You have designed and developed an amazing product and I am totally happy with it. If at some point in time I ever get set up with REW or any other type of measuring device, I will let you know what the results are. I'm sorry I cannot give you any more than I have here but rest assured that I am a satisfied customer and recommend your products to anyone searching for a sub. Thank you.
Regards,
Tank
ps: I forgot to add my SPL readings. I ran YPAO and then, using the AVR generated pink noise, I set SPL for 75db. I have lost my sheet I wrote on but believe these were the numbers.
Hertz DB
20 78
25 78
31.5 75
40 73
50 74
63 70
80 78
100 80

top
| | |
| --- | --- |
| Reviewer: | Gary F. |
| Product: | D15SE |
This is an unbelievable sub. This sub is for audiophiles who think a subwoofer will ruin the sound of their set up.There are so many options to list so this sub will and can fit into any set up. And yes it will shake things up if you want its just that you can hear so much detail and it will not miss a beat on fast tracks yet manages to still hold onto those really low hz sub 20 and lower. So you just wont feel the need to have it loud because everything is all there depth , speed, thump, feel, musicality.

top
| | |
| --- | --- |
| Reviewer: | Bob M.(UK) |
| Product: | F12G |
Hello Brian, I hope this finds you well.
My goodness. Having waited for so long for the subs, I can only say that they do not disappoint. It's been a wonderful day today. Having spent several days hammering away at the room, endless measuring, moving, trapping, tweaking; finally I can sit and listen. And things are good.
The subs are virtually invisible, simply providing solidity, depth and a wonderful sense of envelopment that I haven't experienced in such a natural way before. They don't boom, they don't fuzz, they don't do anything other than feel like thoroughly excellent speakers that play low. Very low. They feel like a natural accompaniment to my (Klein/Hummel) O300s. In fact they feel positively complimentary, not least in terms of how they helped to smooth the LF response in the room. Working on the setup today made it clear that - despite it being a pain in the *** for you - I made the right choice in going with Rythmik. I think I said to you that everything else seemed like a compromise. I am glad I didn't.
I'm not just happy, I'm absolutely thrilled with them.
Thanks ever so much for everything.
With best regards,
Bob.


top
| | |
| --- | --- |
| Reviewer: | Scott T.(Singapore) |
| Product: | F12 x2 |
Thks Brian , keep me updated . By the way I was wondering whether to match my current f12 with another f12 or f15 , more output for movies. Any way yr sub is the best I have ever own ( hsu , svs , linn , kipsch ,deftech and paradigm) keep up the good work.

....yup perviously I have 4 sub but different models just don't blend together no matter how I eq them .Even for one Rythmik sub is so easy to blend in ,I must say this is the best sub I have own so far , good work Brian.Hopefully yr next sub would cater for home theater and size remain small .



top
| | |
| --- | --- |
| Reviewer: | Paul G. |
| Product: | D15SE |
Brian, just a little follow-up on your low pass setting explanation-thanks loads!

I am running my D15se, in LFE+Mains setting on my Denon 985P. As I mentioned earlier, I am using AR9's full range-each has two 12" acoustic suspension woofers; upper crossover is at 200 hz,(internal tower crossover) and they are down 3db at 28hz. My D15 is located three feet in front of the AR's, and to the left a couple of feet, against the wall (the AR's are on either side of a Pioneer Elite 50"plasma, and against the rear wall)

I ran my Denon microphone equalization, and everything sounded pretty good, but the low end response sounded very thin--I didn't realize, at the time, that the phasing, between the AR, LF drivers, and the D15. had to be addressed. I switched from LFE, to AVR/12 and found and adjustment of 90 degrees, put both the D15, and the AR's spot on!!!! I can't believe the fantastic results!!!!!!!!

The main thing I think is missing in setup situations is that everything is addressed to 80hz crossover, with crossover phasing as the driving factor-if your fronts have extended LF response, you have to be doubly on guard to phase your LF drivers, or you have minimal, to little LF response.

Again, thank you for your personal touch, with your customers. You have a customer for life here.
Sincerely,
Paul Goshko


top
| | |
| --- | --- |
| Reviewer: | Bob A. |
| Product: | F15 |
Just wanted to give some positive feedback. I have listened to the F15 in various kinds of music and it blends very well with my Sonus Faber Toy towers. Very natural sounding bass. On the other hand, I put the depth charge scene from U-571 on today and, wow, it shook the house when played at near reference levels. Sounded like depth charges going off in the room with my basement concrete floor shaking. I'm a believer in Rythmik subs. I am still debating a second, but wanted you to know how much I am enjoying the first!
Bob


top
| | |
| --- | --- |
| Reviewer: | Peter D. |
| Product: | F12SE |
I freelance in the film industry as a 2nd Assistant Director (AD) and, resultantly, possess a love of film that follows me home from work. In my media room I have a 5.1 channel setup with an M&K sealed box dual 8¡¨ subwoofer. Miller & Kreisel subs are (were) legendary for their authoritative bass and the speed of their drivers. In fact, my dual 8¡¨ has the Super Fast Bass Drivers and handily keeps pace with my main speakers.
What was lacking, however, was bass presence in the room. The space is 2400 cubic feet and although the sub imparts bass extension to films or music, it never loads the room with lower octave energy. On explosive soundtracks like the end of Titan AE in the ice crystal field, the M&K¡¦s drivers frequently attempt to release themselves from their enclosure. Oh, and the M&K's amplifier could keep your hors d'oeuvres warm with its heat generation. In short, the laws of physics are stacked against a smaller sub¡Xeven with dual, push-pull drivers.
I did extensive research and narrowed my search to Rythmik and one other company. What clinched the deal, though, was the Direct Servo technology incorporated into your subs. I purchased an F12SE while I was actually still on location shooting in Boston and only recently returned to Los Angeles to set it up and give it a listen. Here are my thoughts:
First and foremost, the energy the F12SE imparts into the room is palpable. That¡¦s not to say bloated or boomy; rather, it makes its presence known when called upon for duty. Anything that plumbs the lower octaves is given extra weight by the sub. I never experienced this with my M&K. And I mean never.
Back in 1999, the electronic band the Art of Noise released a CD entitled The Seduction of Claude Debussey, which was a soundtrack to the film about the French composer that was never made (their description, anyway). Regardless of what you think of electronic music, the production on this CD is exemplary. The first track has the rich voice of the actor John Hurt set against a cornucopia of bleeps and blips and bass drum hits. The third track has a series of amazing bass energy sweeps that actually fall below the range of the sub. In all instances, though, the F12SE absolutely mesmerized me with its ability to slam when needed while never losing composure. I cannot get enough of its musicality. But wait, there¡¦s more¡K
Because of my job, many of my friends are also Assistant Directors. We usually gather at my place (I have the best HT setup) and watch a DVD together, usually a film that one of us did. My friend suggested Transformers, as he had worked on it. Perfect choice. It would also give me a chance to run an uncompressed, high-resolution soundtrack through my system with the sub. ¡§Wow¡¨ doesn't even begin to describe the experience. If your product can silence a room of jaded industry folks, you've done your job. Every explosion, crash, robot footstep and anything else the sound mixers cooked up was rendered with precision and grace. Not once did it sound like a subwoofer. It just sounded like, well, giant robots were fighting in downtown LA for the future of mankind. We could discern, say, a giant footstep from the sound of a robot hitting a building. Every detail of the mix could be heard.
I can not sing the praises of the F12SE enough and none of us can wait for the next movie night.
Best,
Peter D.
Los Angeles, CA

top
| | |
| --- | --- |
| Reviewer: | Jason P. |
| Product: | F12SE |
Brian,

......

By the way, now that I have had some time to correctly set up the sub it sounds great, no boom, no overhang, lovely filled out bottom end with a variety of notes and not just the single one note bass so many other subs offer. This sub easily competes in my humble opinion with the dd series velodynes and the jl's for a fraction of the cost. Well done.

Regards,

Jason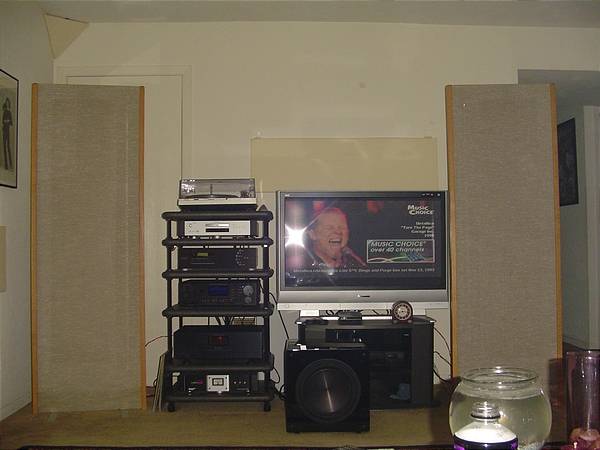 top
| | |
| --- | --- |
| Reviewer: | Charles B. |
| Product: | DS15SE |
Brian,
I received the subwoofer yesterday. The finish is really excellent. I read the info on your site about phase, but since I have no information about my main speakers I ended up just A/Bing different adjustments until I got it where I wanted it. Only took about 20 minutes. My main speakers are Dali Grands that are about 10 years old. The ¡V3db point is 33hz. I used the 40/24 setting and the subwoofer integrates extremely well. One would be hard pressed to realize there is a subwoofer in use, at lease until I put on the Massive Attack vinyl. :-)

I just wanted to say thanks, you have a terrific product and I am very pleased.
Thanks,
Charlie

top