New range of subs
Our range of subs has expanded and we now offer a range of subs for music, home theatre and combined systems. L series is our entry level product line and F/E series is our premium product line.
Output comparison
Every one of our subwoofers has bass extension lower than 20hz. Our frequency response specification is based on -3db point which is far more stringent than +/-3db that other manufacturers have used. +/-3db is more like our -6db specification because the former is equivalent to 0db/-6db specification. Lower bass extension is also advantageous in multiple sub setup.
At 20 Hz, our subs vary in their maximum output capability. The output at 20 Hz is shown relative to F12.
When comparing ported models vs sealed models, ported models will have more full body bass and it can contribute a bit higher output in subjective perception of bass loudness that is not reflected in db numbers.
F12: 0db (baseline)
F8/FM8: -1.5db
L12: -1db
F12-300: -0.5db
LV12M: +2db
L22: + 4db
LVX12: +4db
FVX12: +4.5db
E15HP: + 5db
F15HP: +5.5db
G22: 6db
E22: 6db
F18: +7.5db
FVX15: +8db
FV15HP: +11db
G25HP: +12db
FV18: +14db
FV25HP: +17db
Home theatre subs
For systems where home theatre is the main priority, we recommend our vented subs. At 20 Hz, a vented sub is comparable to the output of two similar sealed subs. LV12F is our lowest cost sub and is designed for smaller rooms and modest budgets. Our larger 15" subs are suited to larger rooms and have substantially more output. Don't be fooled by typical comments about vented subs lacking accuracy. These subs are tight and musical.
Music only systems
For music-only systems we recommend our sealed subs. We have sealed subs in various sizes and finishes. Where high output at 20 Hz is not needed, our sealed subs will match the output of their vented equivalents. In addition, greater extension is possible. Combined with room gain, in-room extension to 14 Hz or even lower is possible.
Combined systems
For combined music and home theatre systems, many of our 15" sealed subs are a good all round compromise. Our dual sealed 15" F25 is a very good choice, offering the LFE output of our vented subs but with the added bonus of greater midbass efficiency and output.
Direct Servo technology
The secret to accurate bass is in our patented Direct Servo technology.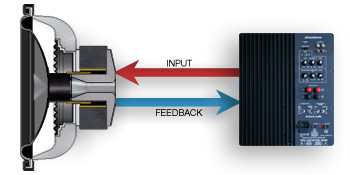 A sensing coil provides immediate feedback to ensure the cone precisely follows the input signal. The result is very tight, accurate and dynamic bass. Unlike many other non-servo subs which exhibit two-mode bass: either with too much bass when volume is up or with too little or no bass when the volume is down, our higher resolution subwoofers allow customers to listen at lower level and yet able to hear detailed bass in a wide range of volume level.
How to purchase
Our range of Direct Servo subwoofers on this page are available for purchase on-line direct via our website. They are also available through Ascend Ascoustics sold with their speakers.

Our customers say ...
From our customers we often hear comments like these:
"This is the cleanest, tightest, and most accurate bass I've ever experienced." ... Rob

More
"... I am hearing notes I've never heard before." ... Kent B

More
" It's quite satisfying when you hear that some bass notes, previously thought to be a single note, are actually two notes or a series of shorter notes." ... Darren K

More